September 18, 2023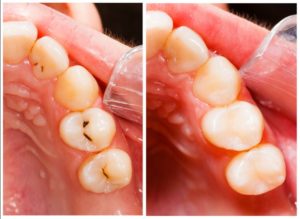 Restorative dentistry is a term that encompasses a wide range of treatments that rebuild teeth that are impacted by decay, infections, and dental damage. Within that category are dental crowns and fillings, and while they both rebuild damaged teeth, they may be recommended by your dentist in different situations. Read on to learn the difference between these two treatments and find out which one you may be able to benefit from.
What's a Dental Crown?
Dental crowns are cap-like porcelain structures design to fit over teeth like a hat to protect and strengthen them. They can be made from a variety of durable dental materials, but are most often crafted from custom-shaded porcelain or ceramic. However, if you're looking for improved durability, you can also have yours made from gold or silver.
The process of getting a crown is simple and takes place over the course of multiple appointments. First, your dentist will prepare the tooth by removing a small amount of enamel. This will allow the restoration to lay flush with your surrounding teeth once it's placed. Then, they'll capture an impression that the dental laboratory will use to create your permanent crown. Until your permanent crown can be secured to your tooth, a temporary one will protect it.
What Problems Do Dental Crowns Treat?
Dentists typically recommend dental crowns in the following scenarios:
To treat severe decay
To support a tooth that has a large filling
To strengthen and protect a tooth that has had a root canal
To treat a severely damaged tooth
What's a Filling?
Fillings, which are also referred to as tooth-colored fillings or cavity fillings, are solely used to treat decay. They're crafted in-office within your mouth by your dentist using a custom-shaded composite resin. It's a putty-like material that is biocompatible, meaning it's able to naturally fuse with your tooth enamel to create a tight seal and bond to your tooth. This aids in both its durability and enhances its protection.
Typically, a filling can be placed within a single hour-long appointment, as your dentist will need to shape, texturize and color-match the resin to ensure your restoration flawlessly blends in with your natural teeth.
What Problems Do Fillings Treat?
Fillings are an excellent way to keep small problems, like a minor cavity, from turning into larger ones down the road, like a tooth infection. By clearing away any decayed dental structure and fusing the filling to your tooth, it will keep harmful oral bacteria from gaining access to the more vulnerable inner structures of the tooth, as well as keep the decay from spreading.
About the Practice
At Daily Smiles Dental, our team is led by three phenomenal, experienced professionals, Dr. Gustavo Arrechea, Dr. Aom Arrechea, and Dr. Vanina Arrechea. With a passion for patient education and commitment to preserving smiles, we provide a wide range of restorative treatments to help rebuild and protect compromised teeth. We're also committed to using high-quality, natural-looking, and durable materials to do so. Schedule an appointment today by visiting our website or calling 214-233-9460.
Comments Off

on What's the Difference Between Dental Crowns & Fillings?
No Comments
No comments yet.
RSS feed for comments on this post.
Sorry, the comment form is closed at this time.