Dental Implants — Dallas, TX
Replacing Missing Teeth with Permanence and Stability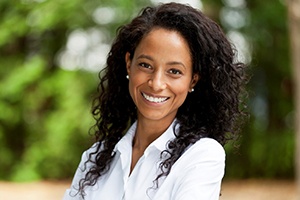 No one plans to lose their teeth. The goal is to maintain your natural, healthy teeth as long as possible. Unfortunately, things happen that can result in the loss of one or more teeth, leaving you to wonder how you can get your smile back before your oral health begins to seriously decline. From facial changes to a deteriorating jawbone, gaps in your smile can begin to negatively affect your facial aesthetics as well as your overall health. To prevent this from happening, Daily Smiles Dental Dallas offers dental implants as a way to replace missing teeth with permanence and stability. Providing a longer-lasting restoration than traditional treatments, dental implants are considered to be the superior solution for tooth replacement. To learn more or to schedule an appointment, contact our office.
Why Choose Daily Smiles Dental Dallas for Dental Implants?
Partners with local dental implant specialists for placement
Affordable and flexible financing options available
State-of-the-art dental restorations
What Are Dental Implants?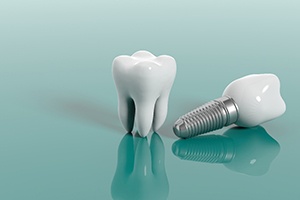 A single tooth implant replaces the entire structure of the tooth. A titanium implant post is surgically placed into the jawbone to serve as a new root. A special fixture called an abutment is placed on the post to attach your custom-made restoration. Although it will take several steps to recreate your tooth, it's time well spent because your dental implant can last for decades and give you the confidence to eat all your favorite foods. Their esthetics, functionality, longevity, and reliability are precisely why more and more dentists are recommending them over traditional options every day!
The 4-Step Dental Implant Process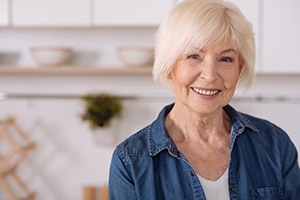 Our practice takes a team-based approach to dental implants. That means we work with local specialists who can handle the surgical part of the process while we provide the final restoration and make sure that it fits properly in your mouth. Before you commit to dental implants, we'll explain each step of the process for you and answer any questions that you might have. Here is an outline of the four major steps that every patient can expect to follow when getting dental implants.
Initial Dental Implant Consultation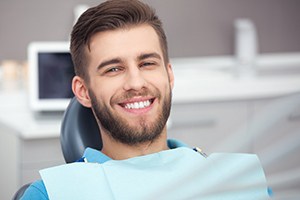 When you call our office saying that you're interested in implants, we'll schedule a consultation for you. We'll need to closely examine your mouth and facial structures using the latest dental technology in order to determine whether or not you can get implants. Some patients can have the surgery done right away, but others will need to complete preliminary work such as bone grafting or gum disease therapy first. These preliminary procedures are often necessary if you want the best chance of success.
Dental Implant Surgery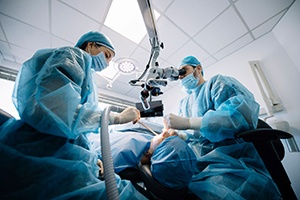 You'll go to a trusted oral surgeon for your implant placement surgery. After numbing your mouth, they'll make small incisions in your gums so that they can insert the implant posts in your jawbone. Once they're in place, the gums will be sutured shut. A small protective cap is placed on each implant post; this helps protect them during the next stage and helps us ensure that the shape of your gums doesn't change over the next few months.
Dental Implant Osseointegration & Abutment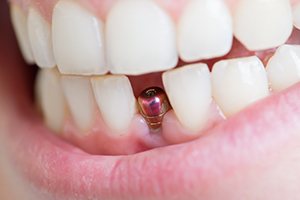 Osseointegration is where the implant posts merge with your jawbone. The process can take months, but it's a necessary step if you want your dental implants to be successful. The next step after osseointegration is to attach an abutment to each post. An abutment is a small piece of metal used to hold a restoration in place. It is what allows us to attach your new prosthetic teeth to their implant "roots."
Delivery of Dental Implant Restoration(s)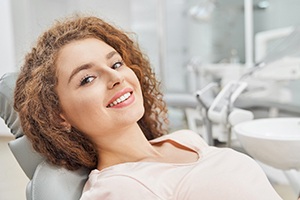 Once your mouth has completely healed from the abutment placement, it will be time to start designing your final restoration. At our office, we will capture impressions of your implant posts, natural teeth, and other important structures in your mouth. This information is sent to a reliable dental lab so that trained ceramists can make a restoration that looks virtually the same as your natural teeth, right down to the shape, size, and color.
The lab will send your completed restoration back to our office, at which time we'll schedule one last appointment with you. Before we attach your restoration, we'll check to see if there are any last-minute adjustments that need to be made so that it fits properly and looks natural. Then we'll anchor your new teeth in place so that you can start taking advantage of them right away!
Benefits of Dental Implants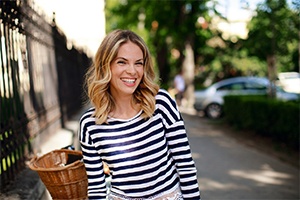 Today, dental implants are considered the gold standard of tooth replacement – and there's a very good reason for that. They're one of the best solutions for patients missing one or more teeth, even those missing an entire mouth full of pearly whites! Since dental implants have a unique placement inside the jawbone, they provide a range of benefits that you simply can't get with other options like dentures and dental bridges. If you'd like to learn more about the incredible benefits of this tooth-replacement solution, continue reading or make an appointment with our team today !
Day-to-Day Benefits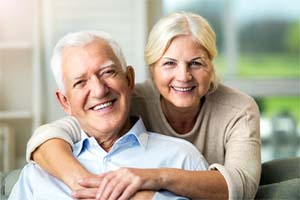 We use our teeth every day for eating, speaking, and smiling. If you want a tooth-replacement solution that won't limit your ability to enjoy life to the fullest, you should consider getting dental implants in Dallas. They'll allow you to enjoy several day-to-day benefits, including:
Regained ability to eat most foods. Dental implants are unique because they replace the entire structure of a missing tooth, from the root up to the chewing surface. Since they're more stable than dentures and bridges, they can stand up to virtually any food.
Increased confidence. Once your implants are integrated into place, they shouldn't move at all. They'll allow you to eat, speak, and smile more confidently!
Easy maintenance. Believe it or not, taking care of your new smile is as easy as caring for natural teeth. You can help your newly rebuilt smile stay as healthy as possible by practicing good oral hygiene and visiting your dentist regularly.
Health Benefits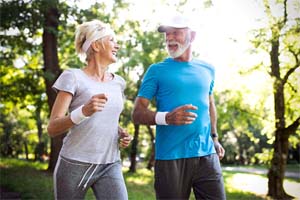 Even though dental implants in Dallas can improve your appearance, they offer benefits that stretch far beyond that. Here are a few health benefits you can expect to enjoy as well:
Unmatched stability. Since dental implants are firmly rooted into the jawbone, they provide you with unmatched stability, allowing you to chew all your favorite foods with ease.
Jawbone preservation. Because implants are inserted directly into the jawbone, they stimulate it to prevent its deterioration. As a result, it'll help you avoid bone loss that's so common after tooth loss. You'll be able to maintain your face's overall shape for years to come!
Improved overall health. Studies show a correlation between tooth loss and an increased risk of several diseases. Since implants are so similar to natural teeth, they can lower your risk of certain health conditions (i.e., diabetes, cardiovascular disease, stroke, etc.).
Long-Term Benefits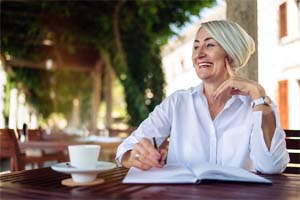 By choosing to get dental implants right now, you can reap multiple long-term benefits, including:
High success rate. Dental implants have an impressive success rate of 95%, even 20 years after they've been placed.
Youthful appearance. Since the implant post stimulates the jawbone, it prevents the sunken, aged look that often accompanies tooth loss.
Long lifespan. Unlike dentures and bridges, implants can last for decades without the need for replacement. They're one of the most permanent solutions for missing teeth!
Who Dental Implants Can Help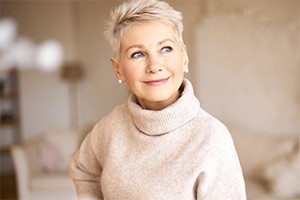 Whether you're missing one, multiple, or all your teeth, dental implants can restore and improve your oral health far better than any other restorative solution available. In fact, it is believed that most adults suffering from tooth loss can (and often do) receive permanent prosthetics to replace their missing teeth and restore their smiles. If you are still considering your options and whether you can truly benefit from these unique tooth replacements, a dental implant dentist in Dallas is here to provide some deeper insight. Review the information below and contact us with any questions.
Who is a Good Candidate for Dental Implants?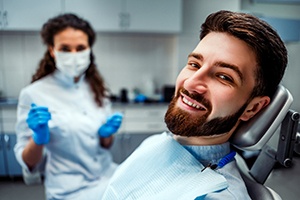 As we previously mentioned, most adults are considered candidates for dental implant treatment. However, it may be that you cannot immediately move forward with oral surgery. Oftentimes, preliminary treatments are necessary to ensure the health and success of your future smile, so you can expect our team to closely evaluate your mouth before signing off on your implant placement.
After reviewing your oral and overall health as well as your jawbone density, we may recommend that you receive periodontal therapy, tooth extraction, bone grafting, or even a sinus lift. No matter what is suggested, you can rest assured that our team at Daily Smiles Dental will ensure optimal comfort and outstanding results.
Missing One Tooth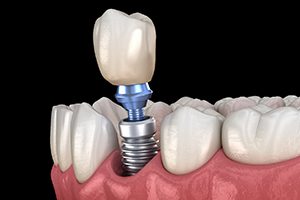 Nearly 120 million Americans are missing at least one tooth. Do you fall into that category? If so, you no longer need to be ashamed, as we can easily replace your missing tooth with a single dental implant. Our implant dentist in Dallas can use a titanium post and surgically place it into your jawbone before adding an abutment and your customized dental crown.
Missing Multiple Teeth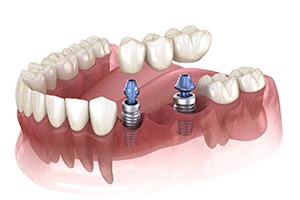 If you are missing more than one tooth consecutively in a row, an implant bridge can be used to restore your smile from the roots. By simply placing implants on either side of the gap, your custom dental crowns can be fused to create an implant bridge, which will be attached to the top of your implants. But even if your teeth are not missing consecutively along the upper or lower arch, we can place several dental implants in Dallas along the jawbone before applying a partial implant.
Missing All Teeth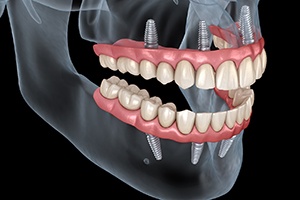 When all your teeth are missing, there's no need to think that traditional dentures are your only solution. With implant dentures, we can surgically place between 4 and 6 implants into your jawbone before securing a denture prosthetic to your implants for greater stability. There will be no need for messy dental adhesive because this type of restoration remains permanently in place.
Also, with implant dentures, you'll enjoy eating all your favorite foods without worrying about your prosthetic slipping or falling out in front of others.
Understanding the Cost of Dental Implants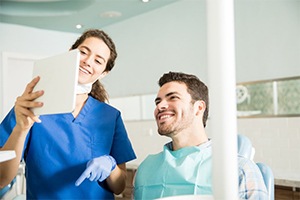 Many patients will settle for traditional dentures because they feel like dental implants aren't an affordable option for them. However, implants offer a variety of unique and oral health-boosting benefits that make them well worth the investment. Although they have a higher up-front cost, that doesn't mean they're not the most affordable long-term investment. Plus, at Daily Smiles Dental Dallas, we offer affordable and convenient financing options through CareCredit and accept virtually all PPO dental insurance plans, CHIP, and Medicaid. If you'd like to learn more about the cost of the procedure and how you can do the best for your oral health without ruining your monthly budget, contact our office today to schedule a consultation.
Preliminary Treatments & Dental Implant Surgery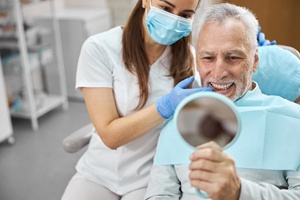 Before dental implant placement, there are certain preliminary treatments you may need, including gum disease therapy, tooth extractions, or bone grafting. While they do add to your overall expenses, they're necessary to ensure your new smile lasts as long as possible. Plus, they're often eligible to receive partial coverage from most dental insurance plans.
It's worth noting that the total cost of dental implant surgery is usually affected by the location of the surgical site and the type of sedation needed. At Daily Smiles Dental, we want you to receive the best results possible, which is why we work with local specialists for the procedure. They'll thoroughly explain their pricing information to you so you know exactly what you can expect to pay.
The Parts of Your Dental Implant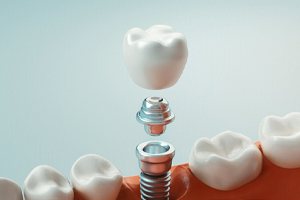 The parts of your dental implant influence the overall cost, such as:
Number of Dental Implants – Logically speaking, one dental implant for a missing tooth will cost less than 4-6 for an implant denture. However, an implant denture would still be more cost-effective than replacing each tooth separately.
Type of Restoration – Each type of restoration (i.e., crown, bridge, denture) costs a different amount, with smaller restorations being naturally less expensive.
Material – Some implants are made out of zirconia instead of titanium, which affects the overall cost.
Brand – The dental implant manufacturer your local specialist chooses will affect the total amount you'll end up paying. Don't forget to ask where your implants are coming from and about any brand-specific benefits.
How Dental Implants Pay for Themselves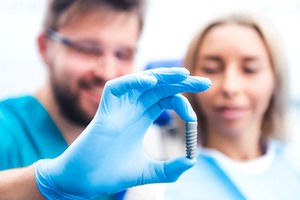 Several people may feel tempted to choose traditional dentures or dental bridges over implants simply because of their lower initial price. However, dental implants end up paying for themselves in the long run. Unlike other options, you won't need to pay for a replacement every five to ten years. Plus, there are no special tools or products you have to buy to take care of your new smile. Since implants are much easier to take care of, you can easily avoid costly oral health issues like gum disease and tooth decay!
Does My Dental Insurance Cover Dental Implants?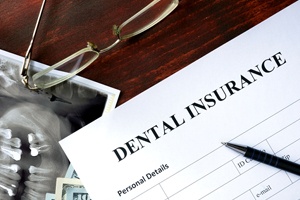 Unfortunately, many dental insurance plans don't cover the cost of the dental implant procedure because they still consider them "cosmetic." However, this is in the process of changing, so it's always a good idea to double-check by contacting them directly. At Daily Smiles Dental, we can help you review the details of your plan to see how you can maximize your benefits and reduce your out-of-pocket expenses. The good news is that certain parts of your implant treatment may be covered, such as a percentage of your final restoration or preliminary dental work.
Making Dental Implants Affordable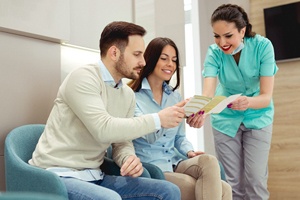 We understand that not every patient has dental insurance, which is why we offer an additional financing option to help make treatment as affordable as possible. CareCredit financing allows you to split up the total cost of your extensive dental care into smaller, budget-friendly monthly installments. You can choose from multiple low-to-no interest plans and select one that fits your budget perfectly.
Maintaining & Caring For Your Dental Implants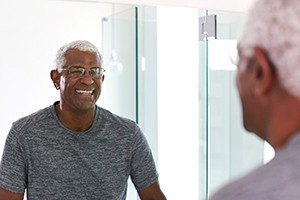 It's true that dental implants can last for decades after they've been placed, but you'll need to stay committed to a positive oral care routine at home and maintain healthy habits to ensure they do. The good news is these habits are relatively straightforward and easy to complete. Keep note of the most essential habits to know below and you'll be able to enjoy your smile for many years to come. If you have questions about your tooth replacement, please give us a call at any time.
Make Oral Hygiene a Top Priority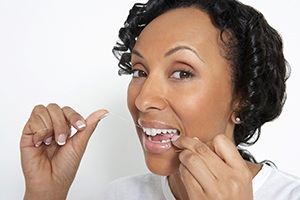 The restoration attached to your dental implant is made from inorganic material, so it won't develop decay. However, you'll still need to perform daily brushing and flossing to maintain the health of your dental implant. This is because the gum tissue underneath the implant can become infected. Thankfully, your at-home oral hygiene is not much different with dental implants. Simply brush twice a day and floss daily. For extra protection, consider adding an oral rinse to your routine.
Eat a Healthy Diet Daily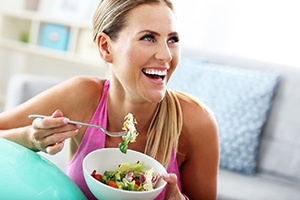 Many people don't realize diet can play a major role in long-term oral health, and that includes the health of dental implants. Reducing your consumption of food and beverages high in sugar and starch will lower your risk for plaque buildup (and therefore tooth decay and gum disease). Additionally, eating healthy foods high in nutrients conducive to oral health (such as fruits and vegetables) will ensure your teeth and gums have what they need to stay healthy day-to-day.
Break Bad Habits ASAP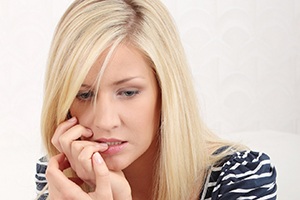 Neither natural teeth nor dental implants are indestructible, so you'll want to break any bad habits you have that harm them as soon as possible. For example, chewing on your fingernails, pens, pencils, ice cubes, or anything else that can crack or chip teeth (or dental restorations) should be avoided. Additionally, do not use your teeth as a tool to perform tasks like opening packages or bottles. This is a sure way to damage your smile and trigger an emergency dental appointment.
Protect Your Dental Implants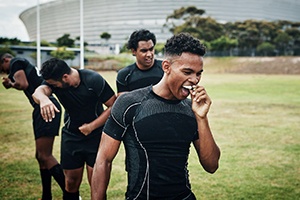 Are you particularly active in sports where the risk for high impact is likely? Wake up often with a sore jaw or sensitive teeth? You likely need a sportsguard or nightguard to protect your dental implants as well as the rest of your smile. Keep in mind that dentist-made oral appliances are more comfortable, last longer, and offer the best protection from facial injury and nighttime teeth grinding and clenching.
Schedule Regular Dental Checkups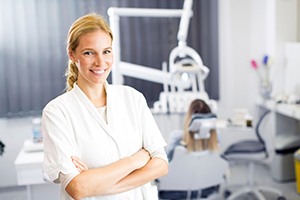 Your dental implants require many evaluations in the beginning stages of healing because we want to ensure they are fusing properly with your jawbone. We also want to confirm your gum tissue is healing appropriately around your implant post. During your routine dental checkup every six months, we'll confirm if any plaque buildup is in need of removal and determine if your at-home oral hygiene is working as intended. The more consistent your checkups are, the less likely you are to miss underlying issues before it's too late.
Dental Implant FAQs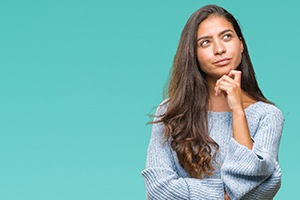 If you're missing teeth in Dallas, you might have considered getting dental implants to fill the gaps in your smile. However, odds are you have some questions about the finer details of the process. Not to worry. We've taken some of the dental implant questions that we get asked the most often and answered them below for your convenience. If you have a question about dental implants that you don't see answered here, just give us a call and we'll be more than happy to lend a hand.
Why Do I Need a Bone Graft?
Your implants won't be successful if they don't have a strong foundation to support them. In this case, their foundation is your jawbone. After you've been suffering through tooth loss, especially with multiple missing teeth, your jawbone starts to shrink because it no longer receives stimulation from those tooth roots. A bone graft will solve this problem. By grafting artificial bone material onto your jawbone, the bone will become strong enough to support as many dental implants as you need to rebuild your smile.
How Long Will It Take for My Implants to Heal?
Your healing time will be influenced by several different factors, such as how many implants you're receiving and how dense your jawbone currently is. After your implants have been placed, your body begins the almost magical process of osseointegration. During this process, your jawbone will actually grow around your implants until the two are essentially one and the same. Usually, osseointegration takes anywhere from a few weeks to several months to complete. Our dentists can give you a more accurate and personalized timeline at your consultation.
Does Getting Dental Implants Hurt?
Thanks to a combination of local anesthetic and sedation, the vast majority of our patients report minimal discomfort during the implant placement procedure. In fact, many prefer getting their tooth replaced to having it extracted. As with any oral surgery, you can expect to feel some soreness and swelling for a few days afterwards. This can be managed with over-the-counter or prescribed pain medication and applying a cold compress to your cheek for 10 minutes on, 10 minutes off.
Can I Return to Work After Implant Surgery?
This depends on how complex your procedure is. If you're receiving several dental implants in Dallas, we highly recommend taking the next two or three days to rest and recover from your surgery. On the other hand, if you're only replacing one missing tooth and using nitrous oxide instead of oral conscious sedation, you may be able to resume your day as normal. We'll go over all of this at your implant consultation.