Dentures—Dallas, TX
The Tried-and-True Tooth Replacement Treatment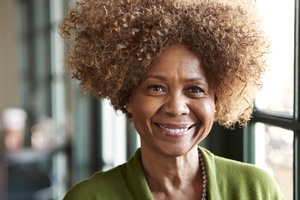 Millions of Americans suffer from tooth loss, so you're not alone if you find tasks like eating and speaking, which should be simple, difficult due to having gaps in your smile. Teeth are an important aspect of maintaining a good quality of life, which is why our dentists recommend that patients restore them with either full or partial dentures. Depending on how many teeth you're missing and where they're located, you may benefit from one of our many tooth replacement treatment options. To find out whether you're a good candidate for full or partial dentures in Dallas, schedule a consultation today!
Why Choose Daily Smiles Dental for Dentures?
Family-Friendly Dental Practice
Experienced Team of Dentists
We Offer Additional Financing
Who is a Good Candidate for Dentures?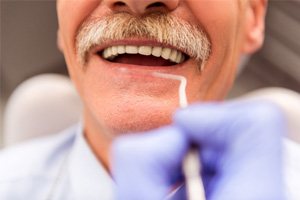 Dentures in Dallas are a tried-and-true tooth replacement solution that millions of people trust to restore the function and aesthetic of their smiles. Whether you're missing several or all of your teeth across an arch, these prosthetics are custom-designed to comfortably and effectively replace them, allowing you to eat and speak with ease once again. If you're wondering whether dentures are right for you, call our office today to schedule a consultation and find out!
Effects of Missing Teeth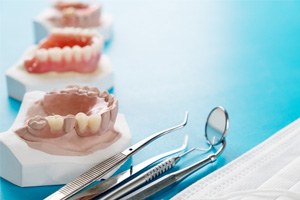 If you're missing teeth, know that you're not alone. In fact, the American College of Prosthodontists estimates that 40 million adults in America are missing all of their teeth. Where this can become an issue that leads to declining quality of life and oral health is if they never get replaced.
When teeth go missing, it leaves gaps throughout your mouth, creating hideaways for plaque and bacteria as well as functional problems, like difficulty chewing food. Over time, this can lead to an increased risk of dental problems like gum disease and decay as well as jawbone deterioration and facial changes because your teeth are no longer supporting and stimulating your facial anatomy. This is why many people turn to dentures, because they've been used for centuries to help patients regain their confidence and abilities to complete basic tasks like eating and speaking.
What Qualifies You for Dentures?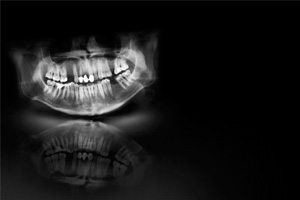 Patients who qualify for dentures are those who have suffered from extensive tooth loss, which means they're missing anywhere from several to all of their teeth throughout an arch. We offer different types of dentures, which you can read more about on this page, to fit a variety of needs, including partial, full, and implant dentures. However, the only way to learn whether you're a good candidate is to have your mouth professionally evaluated by our team at Daily Smiles Dental.
Alternative Options for Tooth Replacement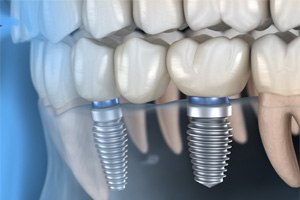 If traditional dentures don't seem like the perfect fit for your tooth loss needs, we also offer dental bridges and implants, which can rebuild and replenish your smile.
Dental bridges are comprised of two dental crowns fused to either side of one or more free-standing replacement teeth, called pontics. The crowns are anchored to your existing teeth to fill a gap in your smile left by one or more consecutive missing teeth.
Dental Implants are very flexible and provide patients with a more permanent alternative to traditional restorations, like dentures. These use biocompatible screw-like implants to replace the missing root structure of teeth, providing free-standing prosthetics like dentures, bridges, and crowns with a stable foundation to be attached to. modern treatment This comes with a spectrum of unique benefits that makes it a popular choice among patients.
Types of Dentures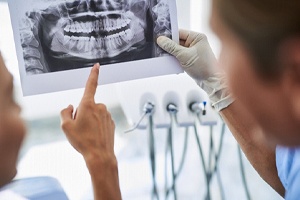 The type of dentures that you need to complete your smile will depend on a couple of factors that we'll discuss with you during your consultation, including the position of your missing teeth within your mouth and the number of teeth you're missing. Based on our findings, we may recommend any of the following denture solutions.
Partial Dentures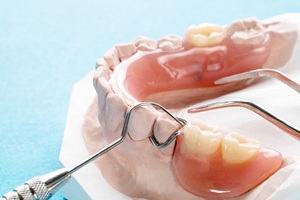 We often recommend partial dentures for patients who are missing several teeth in an arch. This problem can make it incredibly difficult to chew food and increase your risk of developing oral health problems down the road if it isn't addressed. Without replacing these teeth, it can cause your existing surrounding ones to slowly drift out of place in an effort to fill the gaps in your smile. Partial dentures are strategically designed to discreetly fill these spaces with artificial, natural-looking replacement teeth. They use a customized metal or acrylic base to stay secured in place and can be easily removed to clean.
Full Dentures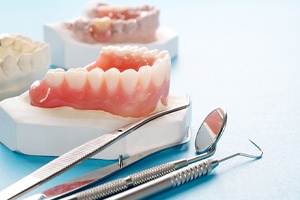 For patients who are missing an entire arch or all of their teeth, your dentist in Dallas will likely recommend full dentures. These are an entire row of artificial teeth crafted from natural-looking materials, such as ceramic, that are attached to a gum-colored acrylic base. The structure of full dentures are customized to comfortably fit your mouth with the use of natural suction and dental adhesive for a strong and stable bite.
Implant Dentures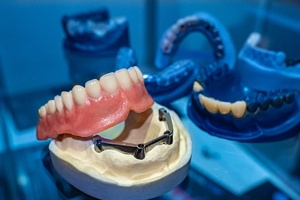 Patients who are looking for a more permanent, stronger solution to replacing missing teeth may benefit the most from implant dentures in Dallas. These are lifelike prosthetics that are anchored to small titanium posts that are surgically placed beneath the gums and fused with the jawbone. Because this treatment restores the entire structure of missing teeth, patients are able to enjoy a variety of unique benefits with implant dentures compared to traditional prosthetics.
The Benefits of Dentures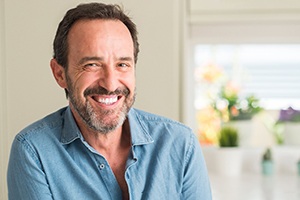 Whether you opt for full, partial, or implant dentures, replacing your missing teeth offers life-changing benefits that can impact your quality of life. Not only will you be able to smile with confidence again, but basic daily tasks like eating and speaking will be much easier with a complete and functional set of pearly whites.
Psychological Benefits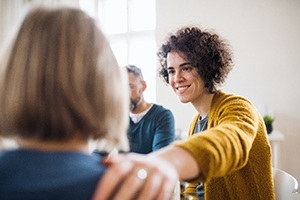 If you've been missing teeth for a while, you may have noticed your self-esteem gradually decline as your social life and health have become affected by the gaps in your smile. By increasing your chances of experiencing depression and anxiety, living with several or an entire row of missing teeth can deeply affect your psychological health. With dentures, you may notice that you're more open to entering social settings and feel overall better about letting your grin show.
Clearer Enunciation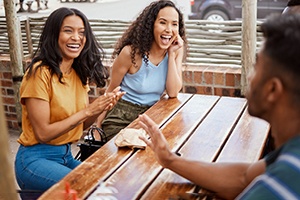 Missing teeth can make it more difficult to pronounce certain words, causing you to develop a lisp and other speech impediments. Although you'll go through a short adjustment period with dentures to get used to talking with them, they can improve your speaking abilities and help you feel more comfortable and confident while talking.
Better-Balanced Diet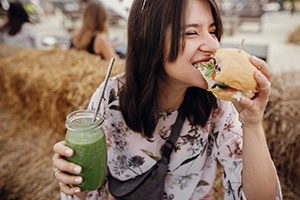 Missing several or all of your teeth can impact your ability to chew certain foods, drastically limiting your diet to contain mostly softer foods. This can impact your physical health and cause you to consume less meat and chewier foods that are crucial additions to your diet. With a complete set of teeth, you can chew more easily, expanding the foods you're able to eat and allowing your body to better absorb the nutrients from your meals. Implant dentures are even able to restore your natural bite power by up to 80%!
Improved Oral Health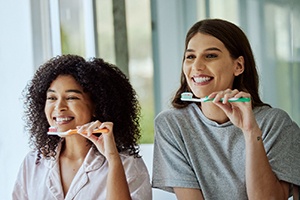 Missing teeth can lead to an increased chance of a variety of oral health problems, including:
Bone resorption
Orthodontic problems
Gum disease
Cavities in existing teeth
With full and partial dentures, you can easily get in the habit of cleaning your gums and existing teeth and block off any gaps within your mouth for bacteria and plaque to hide.
Expanded Life Opportunities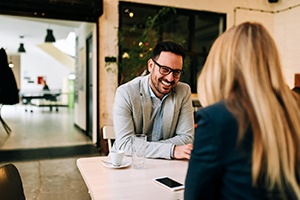 Your smile is often the first trait that people notice about you, so when you feel self-conscious about yours, it may cause you to hide it behind your lips or hands, causing others to immediately pick up on your self-consciousness. During job interviews, first dates, and social gatherings, this lack of confidence can lead to a bad first impression, affecting your ability to secure a new career or go out on a second date with someone you genuinely like. With a complete set of pearly whites, you can smile with pride again and get the most out of all of the opportunities that come your way.
Understanding the Cost of Dentures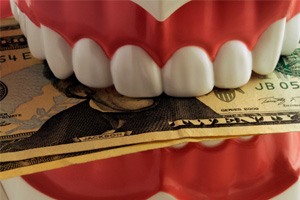 Every denture that we craft is customized to fit each of our unique patients' needs, from the shade of their replacement teeth to the tint of the gum-colored acrylic. Because of this, the price of your treatment can vary greatly depending on a variety of factors, like whether you need preliminary procedures and what type of denture you require. At your consultation , our team will walk you through a detailed cost estimate so you know exactly what to expect financially before moving forward with getting dentures.
Factors That Affect the Cost of Dentures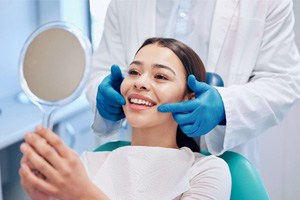 There are four main factors that determines the cost of dentures in Dallas, including:
Preliminary Treatment: Before getting dentures, you may require preparatory treatments like tooth extractions or gum disease therapy. These will incur costs separate from your denture treatment.
How Many Teeth Need to Be Replaced: We offer both full and partial dentures. Because full dentures restore an entire arch of teeth and require more materials and crafting than partials, they typically have a higher price.
Insurance Coverage: While many dental insurance plans cover at least a portion of the cost of dentures, including Medicaid, you may be required to pay out-of-pocket depending on your specific plan.
Materials: The materials you choose to have your dentures crafted from can also play a role in their overall cost.
Are Implant Dentures More Expensive?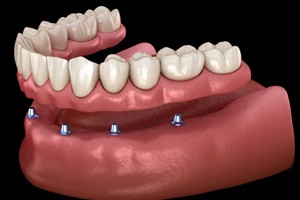 While implant dentures have a higher up-front cost, they're recognized to be a better long-term investment due to their extensive lifespan and unique benefits that distinguish them from traditional dentures. With the ability to last for over 35 years, implant dentures require fewer repairs and replacements and visits to your dentist, so while their cost may be higher, they could help you save down the road. Not to mention, you'll be able to enjoy a variety of life-improving benefits, like the restoration of up to 80% of your bite power.
Does Dental Insurance Cover Dentures?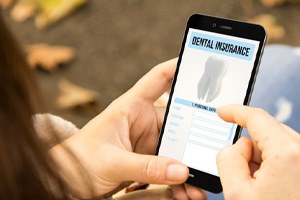 Most dental insurance plans and Medicaid cover at least a portion of the cost of dentures. Our team at Daily Smiles Dental accepts virtually all PPO dental insurance plans as well as Medicaid, allowing you to get the most out of your coverage, all while minimizing any out-of-pocket costs.
Other Options for Making Dentures Affordable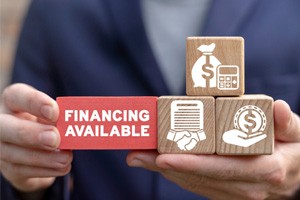 In addition to accepting Medicaid and dental insurance, we also offer additional financing through CareCredit. Upon approval, CareCredit can split the cost of your treatment up into more manageable payments at little-to-no interest, allowing you to easily fit your treatment into your monthly budget.
Denture Maintenance Tips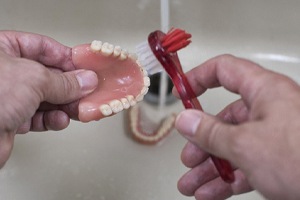 One great benefit about dentures in Dallas is that they're fairly easy to maintain. With regular care, they can last for up to seven years and continue looking just like new. All you need to do is follow these daily maintenance tips:
Take your dentures out and place them in room temperature water at night.
Clean your dentures using a soft-bristled toothbrush and denture cleaner every day.
Dentures can easily become damaged, so put a towel on your bathroom counter to place them on so they don't accidentally fall and crack.
Continue brushing and flossing any existing natural teeth.
If you have any questions or concerns about how to care for your full or partial dentures, don't hesitate to contact our office. Our team will be more than happy to help you learn how to take the best possible care of your restorations.