Dentures—Dallas, TX
The Tried-and-True Tooth Replacement Treatment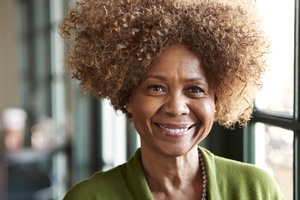 Millions of Americans suffer from tooth loss, so you're not alone if you find tasks like eating and speaking, which should be simple, difficult due to having gaps in your smile. Teeth are an important aspect of maintaining a good quality of life, which is why our dentists recommend that patients restore them with either full or partial dentures. Depending on how many teeth you're missing and where they're located, you may benefit from one of our many tooth replacement treatment options. To find out whether you're a good candidate for full or partial dentures in Dallas, schedule a consultation today!
Why Choose Daily Smiles Dental for Dentures?
Family-Friendly Dental Practice
Experienced Team of Dentists
We Offer Additional Financing
Types of Dentures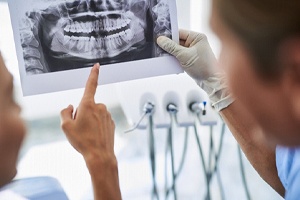 The type of dentures that you need to complete your smile will depend on a couple of factors that we'll discuss with you during your consultation, including the position of your missing teeth within your mouth and the number of teeth you're missing. Based on our findings, we may recommend any of the following denture solutions.
Partial Dentures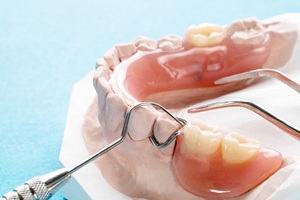 We often recommend partial dentures for patients who are missing several teeth in an arch. This problem can make it incredibly difficult to chew food and increase your risk of developing oral health problems down the road if it isn't addressed. Without replacing these teeth, it can cause your existing surrounding ones to slowly drift out of place in an effort to fill the gaps in your smile. Partial dentures are strategically designed to discreetly fill these spaces with artificial, natural-looking replacement teeth. They use a customized metal or acrylic base to stay secured in place and can be easily removed to clean.
Full Dentures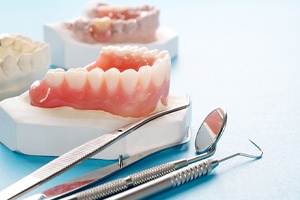 For patients who are missing an entire arch or all of their teeth, your dentist in Dallas will likely recommend full dentures. These are an entire row of artificial teeth crafted from natural-looking materials, such as ceramic, that are attached to a gum-colored acrylic base. The structure of full dentures are customized to comfortably fit your mouth with the use of natural suction and dental adhesive for a strong and stable bite.
Implant Dentures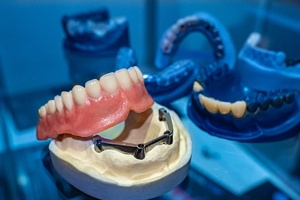 Patients who are looking for a more permanent, stronger solution to replacing missing teeth may benefit the most from implant dentures in Dallas. These are lifelike prosthetics that are anchored to small titanium posts that are surgically placed beneath the gums and fused with the jawbone. Because this treatment restores the entire structure of missing teeth, patients are able to enjoy a variety of unique benefits with implant dentures compared to traditional prosthetics.
The Benefits of Dentures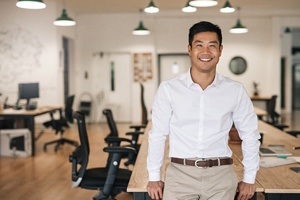 Replacing your missing teeth with dentures, whether you choose traditional or implant dentures, will provide you with a slew of benefits that will improve your daily life and overall health. Here are just a few improvements you can look forward to:
Restore your ability to complete tasks like eating and speaking.
Boost your confidence with a natural-looking set of replacement teeth.
Custom-fitted to your unique oral structure for maximized comfort and function.
Ability to last for 7-10 years with the proper maintenance.
Easy to care for and clean.
Denture Maintenance Tips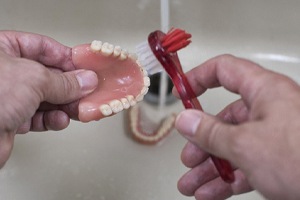 One great benefit about dentures in Dallas is that they're fairly easy to maintain. With regular care, they can last for up to seven years and continue looking just like new. All you need to do is follow these daily maintenance tips:
Take your dentures out and place them in room temperature water at night.
Clean your dentures using a soft-bristled toothbrush and denture cleaner every day.
Dentures can easily become damaged, so put a towel on your bathroom counter to place them on so they don't accidentally fall and crack.
Continue brushing and flossing any existing natural teeth.
If you have any questions or concerns about how to care for your full or partial dentures, don't hesitate to contact our office. Our team will be more than happy to help you learn how to take the best possible care of your restorations.