Sedation Dentistry – Dallas, TX
Sit Back, Relax, & Smile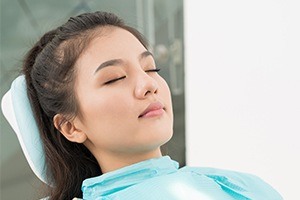 We understand better than most that dental care makes some people very nervous, and unlike other dental offices, we actively try to help our nervous patients so they're able to take care of their teeth without the stress. In addition to an experienced and understanding staff, we also have sedation options available for patients of all ages. Whether it's you or your child who doesn't like to go to the dentist, know that we can make those unwanted nerves quickly go away. Here, patient comfort is always priority #1, and you'll feel that starting at your very first appointment.
Why Choose Daily Smiles Dental for Sedation Dentistry?
Sedation available for any procedure
Safe, reliable, & guaranteed to reduce dental phobia
Gentle enough for children, strong enough for adults
Oral Conscious Sedation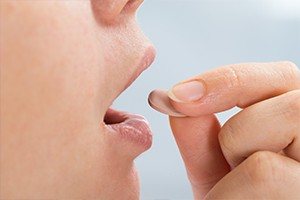 If you could take a pill that would make all of your dental fears go away, would you do it? With oral conscious sedation, that's pretty much how it works! One of our dentists will prescribe you an anti-anxiety medication to take about an hour before your appointment, so by the time you reach our office, you'll already be deeply relaxed from head to toe. You'll remain awake the entire appointment, able to respond to simple commands, but time will probably flow by very quickly. Afterward, most patients say that they have little to no memory of their visit!
We mostly recommend OCS for patients who experience mild to moderate dental phobia or require extensive dental care (such as a root canal). We'll take a medical history to ensure the medication we prescribe you is completely safe. We also require that a friend or family member drive you to and from our office the day of your visit as well as keep an eye on you for a few hours afterward.
Nitrous Oxide Sedation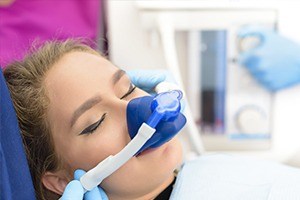 You probably know nitrous oxide by another name—"laughing gas." Dentists have used it for over 100 years to help calm fearful dental patients, and it's so gentle that it's even safe for small children. Nitrous oxide is best for patients who only have a slight fear of the dentist and need help staying relaxed during routine care.
To use it, a patient will simply wear a small mask over their nose and breathe in the colorless, odorless gas. Within a minute or so, a warm blanket of relaxation will come over their entire body. The mask stays on for the entire appointment, and our team can adjust the mix of nitrous oxide to oxygen that a patient is breathing depending on their comfort level.
Afterward, once the mask is removed, there are no lasting effects. The drowsy-relaxed feeling completely goes away in a minute or so, meaning a patient can resume their normal day right after their appointment.