Dental Bridges – Dallas, TX
The Natural-Looking Solution to Gaps in Your Smile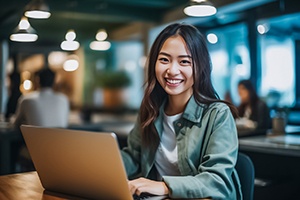 Tooth loss is more common than you may think. In fact, over 170 million people are missing at least one tooth, according to the American Academy of Prosthodontists. If you find that a gap in your smile left by multiple consecutive missing teeth is grating on your self-esteem and making eating and speaking more difficult than it should be, it's time to fix the issue. At Daily Smiles Dental, we offer high-quality, customized dental bridges crafted from natural-looking and durable materials, like ceramic and porcelain. Call our office today to learn how we can restore the complete function and feeling of your smile.
Why Choose Daily Smiles Dental for Dental Bridges?
We Accept & Maximize Dental Insurance
Caring & Experienced Team of Dentists
Modern, Clean Dental Office
What is a Dental Bridge?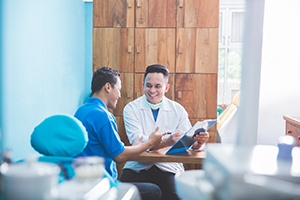 Dental bridges are restorations that have two main components: the free-standing replacement teeth, known as pontics, and two dental crowns. The crowns act to anchor anywhere from one to four replacement teeth within the mouth by being attached to the existing teeth on either side of the gap in your arch. They can also be attached to two dental implants. After the treatment is completed, the restoration will literally act to bridge the space in your smile left by one or more consecutive missing teeth.
Types of Dental Bridges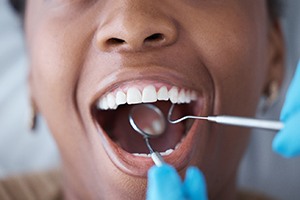 Depending on your smile goals and tooth loss situation, we may recommend either a traditional bridge or one retained by dental implants. Before we make any treatment recommendations, one of your trusted dentists in Dallas will thoroughly examine your smile and take any necessary X-rays. Then, based on our findings, we'll create a treatment plan for you and answer any questions you may have.
Traditional Bridge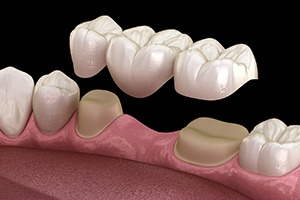 Traditional bridges are secured within your mouth using two of your existing teeth. The crowns attached to either side of the restoration are cemented onto them once they've been prepped by having a small amount of their enamel removed.
Implant Bridge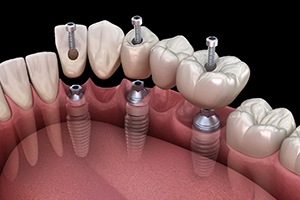 Implant bridges are attached to the mouth by two dental implant posts that are surgically placed below the gumline and into the jawbone. Once they have fused with the bone, small attachments called abutments will be connected to the top of the implants. Once the final restoration is crafted, it will snap onto the abutments and function as permanent replacement teeth.
The Benefits of Getting a Dental Bridge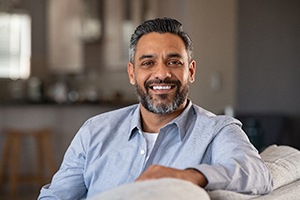 There are several benefits that you'll be able to enjoy when you invest in getting a dental bridge in Dallas, including:
Enhanced oral health and a reduced risk of developing common dental problems.
Easier maintenance of your smile due to fewer spaces for plaque and food debris to hide.
Boosted confidence with a complete row of teeth that looks and feels natural.
Long-lasting results that can continue serving you for over a decade.
Jawbone preservation when the bridge is anchored with dental implants.
Dental Bridge FAQs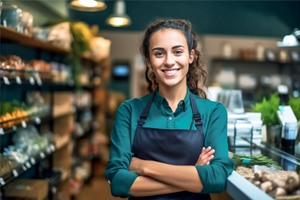 Hearing that you need a dental bridge in Dallas can stir up all types of questions and concerns, but our team at Daily Smiles Dental is here to walk you through every step of the way. Below, we've included some of the most common questions we receive from our patients about this treatment, along with our answers. If you still don't see the information you're looking for, please feel free to call our team directly!
What materials are dental bridges made of?
Dental bridges can be crafted from a variety of materials, but our team often creates them from porcelain and ceramic because these are able to mimic the natural appearance of teeth. When they're being crafted in the dental laboratory, they're being made to match the distinct shade of existing teeth so they look completely natural. These materials are also incredibly durable, with the ability to last for up to 15 years with proper maintenance.
How soon can you get a dental bridge after a tooth extraction?
Although you'll be itching to repair the gap in your smile after getting a tooth extraction, it's necessary for your gums to have time to heal. If we were to place it before the gums healed, it may not fit properly. Typically, we wait between eight and 12 weeks before securing a bridge at the extraction site, but if you're getting an implant bridge, we can secure the implants right after your extraction. The best way to learn about what your individual process will look like is to visit our team for a consultation so we can provide you with a treatment plan.
Are there any foods you can't eat if you have a bridge?
Your dental bridge will function like your natural teeth, but it's important to remember that just like your natural teeth, your restoration isn't indestructible. Try to steer clear of eating excessively chewy and hard foods, and maintain a balanced diet to prevent the accumulation of carbohydrates and sugars within the mouth, which attract harmful bacteria.
Are dental bridges covered by insurance?
In most cases, dental insurance will cover around 50% of the cost of a dental bridge. If you're uninsured or underinsured, we also offer additional financing through CareCredit to help you pay for your treatment. This will allow you to split the out-of-pocket costs into small monthly payments with little-to-no interest attached.