Orthodontic Dentistry – Dallas, TX
Perfectly Straight Smiles for Adults & Children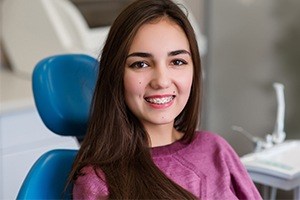 We pride ourselves on being a one-stop-shop for Lake Highlands families, so in addition to providing a long list of general dental services, we can also offer orthodontic care for patients of all ages! Whether your child could benefit from braces or you're ready to finally straighten your own teeth, you can trust that Daily Smiles Dental has exactly what you need. To schedule a consultation so you can learn more about your options and begin treatment right away, give us a call today.
Why Choose Daily Smiles Dental for Cosmetic Dentistry?
Start-to-finish braces for just $3,000 (cash only)
Invisalign: Straighter teeth without metal braces
Flexible & low-to-no interest financing available
Traditional Braces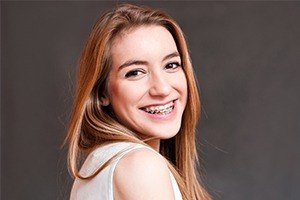 Metal braces are still the most reliable, durable, and affordable orthodontic treatment available today. They work using the same trusted method (wires held onto the teeth with brackets apply a gentle force that slowly shifts them), and they're able to correct both teeth and bite misalignments with relative ease. Thankfully, they have gotten a cosmetic makeover since you were a child and have a more subtle appearance. This treatment is ideal for younger patients, but it can also help adults who have more advanced orthodontic issues.
With braces, we can correct:
Crowded teeth
Gapped teeth
Crooked teeth
Overbite
Under bite
Cross bite
After getting braces put on, a patient will need to attend follow-up appointments at Daily Smiles Dental to have them regular adjusted. Most treatments last about 1-3 years on average, and a patient will need to wear a retainer afterward to maintain their beautiful results.
Invisalign® Clear Braces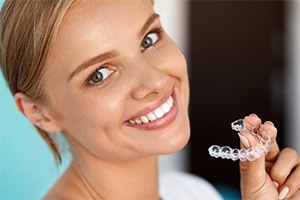 Many adults would love to straighten their teeth, but they just can't imagine facing the world with a mouthful of metal braces. Thankfully, they no longer have to because of Invisalign.
Instead of brackets and wires, it uses a series of crystal-clear plastic aligner trays to move the teeth. They are so discreet-looking that no one will notice you're using Invisalign unless you tell them! And, whenever it's time to eat or brush your teeth, you can simply slip your trays off until you're done. Basically, Invisalign is able to fit seamlessly into any lifestyle, helping patients improve their teeth without compromising their daily appearance or habits in the process.
Your trays will be specially-made based on an impression of your teeth to ensure a comfortable fit. You'll only need to attend follow-up appointments every 4-6 weeks so we can make sure your treatment is staying on track. On average, treatment times with Invisalign range from about 12-18 months.