Porcelain Veneers – Dallas, TX
Correct All Your Smile Flaws at Once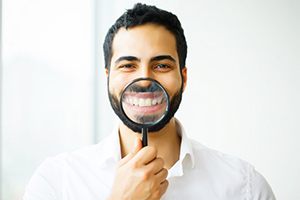 When you look at your reflection or at photos of yourself, are your eyes drawn to your chipped, gapped, or stained teeth? Are those imperfect pearly whites detracting from your overall appearance? Don't you wish there were an easy way to correct all your smile flaws at once? Veneers in Dallas, TX can do just that! In just two appointments, this treatment can utterly transform your smile, making it appear as though it has never been anything less than perfect. To learn more, continue reading below. You could also give us a call and we'll be more than happy to answer all of your veneers-related questions.
Why Choose Daily Smiles Dental for Veneers?
Caring, Experienced Husband-and-Wife Team of Dentists
Se Habla Español
Partnered with the Best Dental Labs in Dallas
What Are Dental Veneers?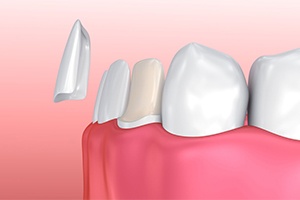 Veneers are super-thin porcelain coverings that can be bonded to the front-facing surfaces of your problem teeth. Because they cover the entire visible sections of the teeth, veneers conceal virtually all kinds of aesthetic imperfections at the same time.
As an incredibly versatile solution, veneers can fix multiple flaws in one fell swoop. For example, they can hide stubborn tooth stains that don't respond to whitening treatments. They can also cover chipped or cracked enamel, improve the appearance of misshapen or worn-down teeth, close small gaps between the teeth, and even make slightly crooked teeth look straighter.
The Process of Getting Veneers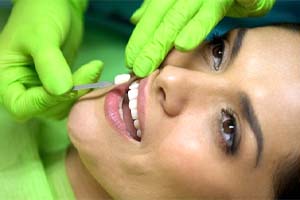 Getting veneers usually takes two appointments with your cosmetic dentist in Dallas. During the first visit, we'll have to prepare your teeth by removing a tiny sliver of enamel, about equal in length to a contact lens. This will ensure your veneers will lay flush against your teeth and not stand out in the line of your smile.
After your teeth have been prepped, we'll take impressions of your teeth and discuss exactly what your smile goals are. These data will then be sent to our dental lab, where our dentists will collaborate with a skilled ceramist to design your custom restorations. This process will take a few weeks. In the meantime, we can place temporary veneers to protect your teeth and allow you to take your new smile for a test drive.
Simple return to our office after a few weeks. We'll remove your temporaries and place your permanent veneers, and voila! You'll have a smile that you can't wait to show off to the world!
The Benefits of Veneers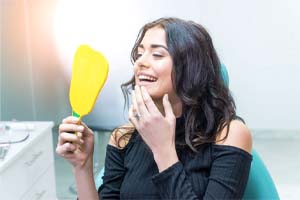 As mentioned earlier, one of the best qualities of veneers is their ability to address multiple smile concerns with a single treatment. Pretty much any cosmetic imperfection can be corrected by placing a veneer over the affected tooth. This even includes teeth that are a little rotated or misaligned. For this reason, veneers have earned the nickname "instant orthodontics."
Another reason why veneers are so popular is their durability. They can last up to a decade or even longer if you take proper care of them, which is often as simple as maintaining a daily oral hygiene routine and visiting Daily Smiles Dental for regular checkups and cleanings.
Lastly, you can trust that with veneers, your results will look perfectly natural. Each veneer is custom-made to our exact specifications, so others won't be able to notice that you had dental work done. All they'll see is your flawless grin!
Understanding the Cost of Porcelain Veneers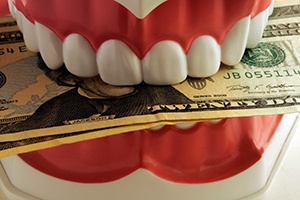 Understanding the cost of porcelain veneers in Dallas can help you know whether this cosmetic solution is the right one for you. When you schedule a consultation with our team at Daily Smiles Dental, we'll walk you through the procedure, make sure that any questions you have are answered, and help you understand the factors that can impact the cost of your treatment.
Cost vs. Cosmetic Dentistry: What's Right for Me?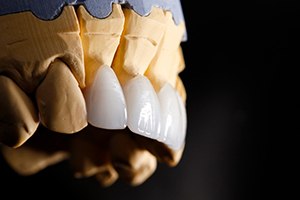 Every smile is different, and after decades of wear-and-tear, yours may be needing a refresher. Some patients may benefit the most from veneers, while others may maximize their smile's full potential with a different treatment their cosmetic dentist in Dallas offers, like teeth whitening or dental bonding. Here are some of the procedures that we offer, as well as the problems they can fix:
At-home teeth whitening can address yellowing stains appearing on the teeth due to coffee, wine, tobacco, and stain-causing foods like tomato sauce. We use a professional whitening system that can brighten your grin by up to 8 shades within two weeks!
Dental bonding is a cost-effective and streamlined treatment that we typically suggest for patients who have mild to moderate dental damage that they'd like to repair (like chips or cracks, or gaps between the teeth). We use a biocompatible composite resin to re-sculpt the missing portion of the tooth within a single appointment.
Metal-free dental restorations like porcelain crowns can help protect and restore the appearance and structure of natural teeth that have been damaged or affected by oral health issues like cavities. They're custom-crafted to seamlessly blend in with the rest of your natural teeth!
Porcelain veneers are customized, stain-resistant shells that are made to fit over the visible surface of teeth to make them appear straighter, brighter, and intact. This treatment is an excellent option for patients who have several cosmetic flaws that they'd like to address without having to invest in multiple treatments.
Making Dental Veneers Affordable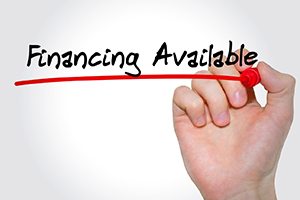 If you're set on renewing your smile with dental veneers in Dallas, there are several ways you can make your treatment a little more affordable. At Daily Smiles Dental, we're proud to offer financing through CareCredit so you can split up the cost of your treatment over the course of an extended period of time. This allows patients to fit the procedure within their budget, all while having to pay little-to-no interest! To learn more about this option, feel free to reach out to our friendly team! We'll do everything within our power to help you achieve your smile goals.
Porcelain Veneers FAQs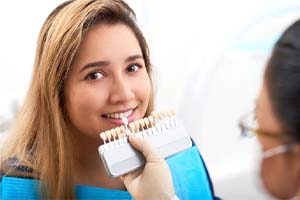 Now you know a bit more about what veneers are, the process of getting them, and the benefits they come with. With that being said, it's natural to still have a few questions on your mind before committing to treatment. That's why we have answered a few frequently asked questions below! If you can't find the answer you are looking for, don't hesitate to contact our office so our fantastic team can help.
Will My Regular Teeth Be Affected by Veneers?
Due to the tooth preparation process, the answer is yes. Before taking impressions of your teeth, our team at Daily Smiles Dental will remove a small portion of your enamel. Not only does this ensure the restorations lay flat against your teeth, making them extremely lifelike in look and feel, but it also ensures they are exceptionally secure once they are placed.
How Are Veneers Created?
Once the "prep" work is complete, it's time to create your veneers. The process begins by sending the impressions to a dental lab, where the artisans will meticulously craft your permanent set of veneers. Before sending the final result back to your dental team, they will ensure the shade, shape, and all the other details match the exact specifications needed to make your dream smile a reality.
Does the Process of Getting Veneers Hurt?
Not surprisingly, one of the biggest questions patients considering veneers ask is whether or not the process will be painful. If you've wondered something similar, you'll be happy to know it's virtually pain-free! Not only does our team go above and beyond to ensure you are completely relaxed in the treatment chair, but we will also provide you with an extensive list of aftercare instructions to ensure you remain comfortable after you leave our office as well. In short, the thought of discomfort shouldn't stand in your way of getting veneers.
What's the Difference Between Veneers and Dental Crowns?
Although veneers and dental crowns are both enamel-colored restorations that protect your teeth, they are distinctly different. Dental crowns are "caps" that cover the tooth entirely, while veneers are a thin, shell-like sheath that adheres only to the front of the tooth. Additionally, dental crowns are a restorative procedure designed to restore the function of a decayed or damaged tooth. Conversely, veneers are a cosmetic solution used to correct everything from minor cracks to permanent discoloration.
Are you ready to correct all of your smile flaws at once? Then contact our office today to schedule your initial consultation!