Emergency Dentist — Dallas, TX
In Pain? Need Help? Call Daily Smiles Dental!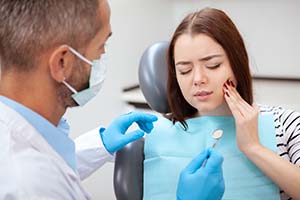 A little preparation can make a huge difference in a dental emergency in Dallas, and fortunately, it really doesn't require much effort on your part! Just put Daily Smiles Dental's number into your phone right now, and if you or your family ever need urgent dental care, you'll be all set. We're ready to accept emergency patients at a moment's notice and provide fast pain relief whether someone is dealing with a bad toothache or knocked-out tooth. Unlike your local ER, we'll provide the immediate care you need without hours spent in the waiting room! If you're in pain and need help, don't hesitate to contact Daily Smiles Dental!
Why Choose Daily Smiles Dental for Emergency Dental Care?
Same-Day Emergency Appointments Available
Special Offer: $50 Emergency Exam with X-Rays
Dental Sedation Available for Maximum Comfort
How We Treat Dental Emergencies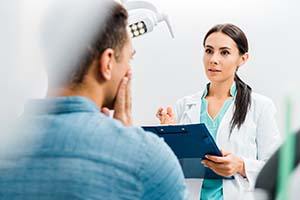 The best way to handle any dental emergency is to simply seek out professional care as soon as possible. This is true whether a person has a painful oral infection or has been in a traumatic accident. Contacting us quickly will enable our team to schedule an appointment so we can take care of you or your loved one ASAP. Once you give us a call, here's what you can expect:
We'll schedule you a same-day appointment: We do everything we can to see emergency patients the same day they call us, and we'll also give you first-aid instructions to use until you can reach our office.
You'll get an emergency exam as soon as you arrive: Once you get to our office, your Dallas emergency dentist will see you right away. They'll work quickly to get you out of any serious pain and learn more about your situation.
We'll review the findings with you and make a plan: After your exam, we'll share our findings with you and fully explain the treatments we recommend, including their estimated length and price. We'll work with you to make a plan for getting your oral health back on track.
You'll get the fast, professional care you need: When a treatment plan has been made, we'll get to work repairing your smile, protecting your teeth, and alleviating your pain. For nervous or uncomfortable patients, we offer dental sedation for optimal comfort.
The Most Common Dental Emergencies
Many of our patients wonder what exactly makes a dental problem an "emergency." To make it short, anything that is bleeding, broken, or causing you pain most likely requires urgent attention. However, those aren't the only situations that need prompt treatment! If you aren't sure if you need urgent dental care, we encourage you to give us a call anyway so we can help you assess your issue over the phone. Some of the most common dental emergencies that we treat include:
Understanding the Cost of Emergency Dentistry
The last thing you should have to worry about while seeking out emergency dental care is whether or not you'll be able to afford it. Unfortunately, this can be the case for many patients. At Daily Smiles Dental, we believe that everybody should have access to fast and high-quality urgent dental care, which is why we offer several different financial options, including a $50 emergency exam with X-rays to make the process stress-free and easy. Below, you'll find some different factors that go into the cost of emergency treatment and how we make dental care accessible.
Every Dental Emergency is Different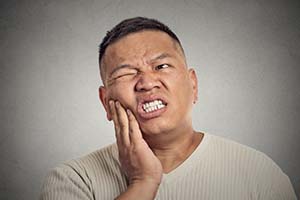 There are many different ways to treat a dental emergency based on each patient's specific situation. For example, a minor toothache can often be relieved using a small filling, while more major ones may require a root canal and crown. The cost of your treatment will depend on a variety of factors, including some of the following:
If you need restorative treatment after we're able to relieve your pain, such as receiving a dental crown after root canal therapy.
How severely your teeth are damaged. The more work that's required, the more costly the treatment will likely be.
Whether you have dental insurance that can cover all or a portion of the cost. Our team is more than happy to help you find out.
Essentially, there is no set price for emergency dental care because so many factors can influence it. If you ever need urgent attention, we'll work to relieve your pain right away, and then we can discuss the options for repairing your smile.
Does Dental Insurance Cover Dental Emergencies?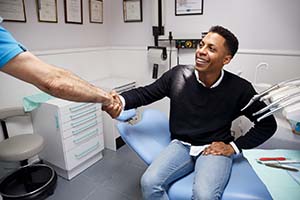 At Daily Smiles Dental, we understand that dental emergencies are stressful enough to handle without having to worry about the financial aspect of your visit, which is why we accept virtually all PPO plans and are more than happy to file claims on your behalf. We also work with CHIP and Medicaid.
Keep in mind that insurance is likely to cover part of the cost, and you will be responsible for the remaining portion.
Other Options for Making Dental Emergencies Affordable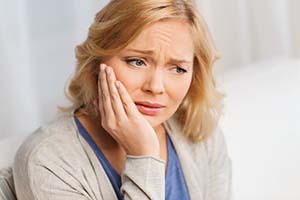 In addition to being flexible for with dental insurance, we provide several methods of payment that can make the process more affordable, whether you have insurance or not. For instance, we have our $50 emergency exam, which includes X-rays. For more costly procedures, we can help you apply for financing through CareCredit. This company allows you to pay off your dental work in small monthly payments, reducing your stress and making treatment fit more easily into your budget.
Taking Care Of Your Smile Can Save You Money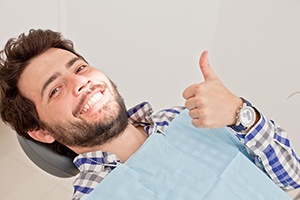 Did you know that the best way to save money on your oral healthcare costs is to stop dental emergencies from occurring in the first place? Little habits, like brushing and flossing your teeth, every day make a huge difference in preventing the development of problems that turn into emergencies. On top of daily hygiene, you must also come to Daily Smiles Dallas at least twice per year for your professional cleaning and dental checkup. This visit allows us to recognize an issue early on—before it causes you pain.
How to Prevent Dental Emergencies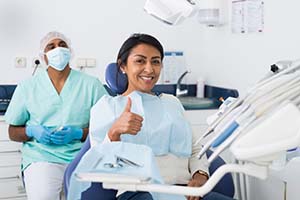 Dental emergencies in Dallas are stressful to handle, and it's safe to say that nobody looks forward to experiencing one. If you could avoid the hassle of an unexpected visit to your emergency dentist and oral pain, wouldn't you want to? Below, our team has highlighted some helpful tips to minimize your risk of experiencing an oral emergency to help save you time, money, and stress.
Visit Your Dentist Regularly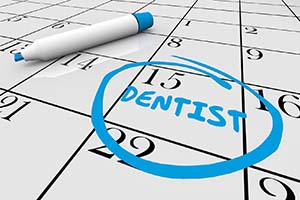 The American Dental Association, along with our team at Daily Smiles Dental Dallas recommends visiting your dentist every six months for a bi-annual checkup and cleaning. These appointments are a key to preventive dental care and catching small oral health problems before they have a chance to develop and cause permanent oral damage and result in a trip to the emergency dentist.
Maintain Good Oral Hygiene Habits at Home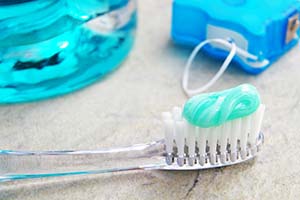 A good at-home oral hygiene routine can help prevent the formation of common oral health problems, like cavities and gum disease. You can do this by:
Brushing twice each day for at least two minutes using fluoride toothpaste and a soft-bristled toothbrush.
Rinsing with antibacterial mouthwash daily.
Flossing at least once a day to remove food debris and plaque between teeth.
Be Careful with Your Diet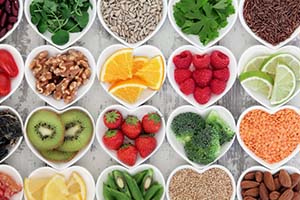 You may not associate your daily diet with your oral health, but these two things go hand-in-hand. Harmful oral bacteria that are responsible for the formation of common oral infections and problems feed off of sugars and carbohydrates in plaque. By eating fewer processed foods that are high in these, you'll be able to minimize the build-up of bacteria in your mouth and maintain a healthy oral microbiome.
Protect Your Pearly Whites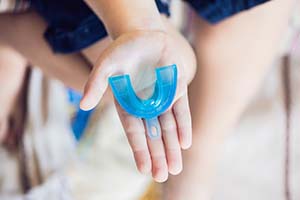 If you play sports or you have a condition called bruxism, where you grind and clench your teeth when you sleep, protecting your mouth with a customized guard is an important step to take to avoid damaging your teeth. We provide custom-crafted acrylic mouthguards that are made to offer maximized protection from forceful grinding or a traumatic injury. You can learn more by contacting our office and scheduling an appointment.
Use Tools, Not Teeth to Open Packaging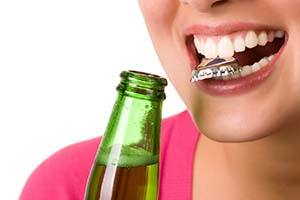 It may be tempting to use your teeth to open a package that came in the mail or rip off a price tag on a new shirt that you bought, but it's best that you don't! Instead, grab a pair of scissors and clip them off. Doing this could save you from needing to visit your emergency dentist due to a chipped tooth.
Dental Emergency FAQ's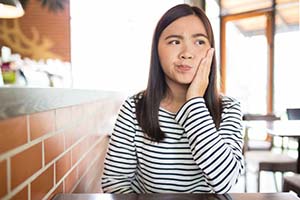 Do you still have questions about emergency dentistry in Dallas? Our team is prepared to help guide you through some of the most stressful dental situations and help you reduce the chances of experiencing additional oral damage. That's why we've answered some common questions we receive from our patients below.
When Should I Go to the ER?
If you're experiencing a severe emergency that is life-threatening or requires immediate medical attention, always visit your local ER before. This includes:
Dislocated, fractured, or broken jaw
Bleeding that hasn't stopped in 10 minutes
Swelling that's making it hard to swallow or breathe
At your local ER, they'll be able to provide you with treatment to stabilize you and ease your pain. Once that's taken care of, you can schedule an appointment with our office to address any dental concerns, such as broken or chipped teeth.
Will My Toothache Get Better On Its Own?
Although we'd all like to believe that a severe toothache will simply disappear on its own, that's commonly not the case. When problems are left untreated, they usually only get worse, resulting in the need for more invasive and extensive treatments and procedures. That's why it's best to visit our office as soon as you notice any out-of-the-ordinary symptoms. With early intervention, we'll be able to take care of the problem, prevent additional damage, and ease your pain so you no longer have to be stressed or worried.
How Can I Bring Down Facial Swelling & Dental Pain?
Facial swelling is a common occurrence due to tooth infections and dental trauma. To help ease your discomfort and bring down any puffiness, you can place a cold compress on the affected area for 10 minutes on, 10 minutes off, for up to an hour. This will help slow the reaction of the nerves in that area as well, helping you feel more comfortable.
If you're experiencing oral pain, you can use an over-the-counter pain medication such as ibuprofen to help. It's best to avoid aspirin, because if you have a tooth infection and it comes into contact with the gums in that area, it can cause a burning sensation. If you have any questions or are concerned about using certain products, you can always contact our office and ask us firsthand. Our dental staff would be more than happy to help.
Are Root Canals Painful?
Many patients who have toothaches are concerned about potentially needing root canal therapy. Although many people have a fear of the treatment itself being painful, it's actually the toothache caused by the infection that's the worst part. After you get a root canal, your toothache will be cured and you'll be much more comfortable. Plus, before your procedure, we'll make sure that you don't feel any pain by administering a local anesthetic to the affected area beforehand.
What Should I Do If I Have a Dental Emergency Outside Your Office Hours?
Although we offer extended and convenient hours, accidents can still happen outside of when we're open. If you suffer from a dental emergency and our office is closed, still contact us. We'll get back to you as soon as possible to help you address any issues and schedule an urgent visit. If your problem is putting you in severe pain, affecting your ability to breathe and chew, or involves a broken or fractured jawbone, visit your local emergency room. Once you've received urgent medical treatment, be sure to contact our emergency dentist in Dallas afterward so we can take care of any of your dental needs and get your smile up-and-running again.
What Should I Include in a Dental Emergency Kit?
What should I include in a dental emergency kit?
It's always a good idea to be prepared for whatever problems come your way. Dental emergencies always occur at the most inconvenient and stressful times, and even if you're careful, they can still happen. That's why it's a good idea to make a dental emergency kit to take with you on road trips and keep at home. Here are some products you'll want to include in it:
Our phone number (469-620-7879) so you have quick access to an emergency dentist in Dallas.
Saline solution.
Prepackaged gauze pads.
A handkerchief or cloth.
A small container that can be secured shut.
Sterile gloves.
It helps if all of your items are individually packaged so you can avoid spreading germs and keep anything that would be going into your mouth sterile. This way, you can avoid bacteria transfer that could potentially make a dental emergency worse than it already is.