Braces – Dallas, TX
It's Never Too Late to Straighten Your Smile and Boost Your Confidence!
Whether you're an adult or making your way through high school, there's no age limit to improving your smile. At Daily Smiles Dental, we offer comprehensive care so you can get all of your dental needs taken care of under one roof. We understand how much of an impact crooked teeth can have on your self-confidence, which is why we offer orthodontic treatments like traditional braces in Dallas. To find out how you can get the smile you've always wanted, schedule a consultation today!
Why Choose Daily Smiles Dental for Braces?
Dedicated and Experienced Dentist
We Accept Medicaid & CHIP
Comprehensive Care
How Do Traditional Braces Work?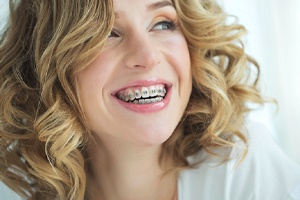 Traditional braces utilize metal wires and brackets to help shift crowded or crooked teeth into their ideal positions. They can also correct misaligned jaws and a variety of bite problems by applying a specific amount of gentle and constant force on your mouth. Treatment times vary from patient to patient depending on the severity of your alignment problems, but the average patient achieves an improved smile between 16 and 18 months.
What Orthodontic Issues Can Braces Fix?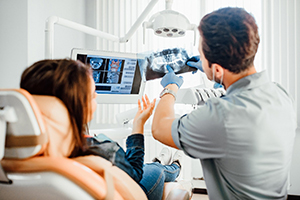 One of the biggest benefits of choosing traditional braces is that they can address a wide range of orthodontic issues, from minor to severe. During your consultation, our Dallas dentist will examine your teeth and jaw to determine which of the following need to be addressed:
Bite Misalignment
When you hear "braces," most people think "straight teeth." In reality, braces do so much more – they correct uneven bites too! Overbites, underbites, and crossbites are just a few bite problems that traditional braces can address.
Crowded & Crooked Teeth
Crooked and crowded teeth are one of the biggest reasons patients seek orthodontic treatment. In addition to not being aesthetically pleasing, overlapping teeth can make it difficult to properly brush and floss. Since this increases your chances of developing cavities, gum disease, and other oral health concerns, braces can benefit the appearance and health of your smile.
Gapped Teeth
Like crowded teeth, spaced-out teeth can make smiling, chewing, and cleaning your teeth properly a chore. The good news is that braces can easily close the gaps in your teeth, giving you the healthy, happy smile you've been dreaming of.
The Process of Getting Braces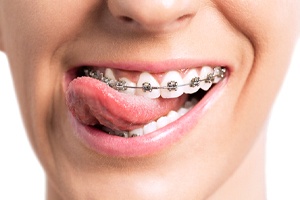 Getting braces in Dallas is easier than ever when you visit Daily Smiles Dental. Your first appointment will be a consultation, where Dr. Arrechea will evaluate your teeth and oral health and decide if braces are the right treatment for you. During your first official visit, he'll take X-rays of your mouth and prepare you for the procedure.
Getting your braces put on is a relatively painless procedure and may take a couple of hours. Dr. Arrechea will dry your teeth and place a special solution on them to help the braces bond easily. Next, he'll attach the braces to your teeth and run the archwire through them. Patients typically report that they begin adjusting to their braces after a month or so. Every 4 to 8 weeks after you get them, you'll visit us so we can adjust them and make sure they're in great shape.
Caring for Your Braces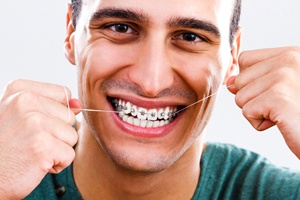 Throughout your orthodontic treatment, it's crucial that you care for your teeth and your braces. Here are a few best practices that will help:
Avoid hard, crunchy, and chewy foods (these increase your chances of experiencing an orthodontic emergency)
Brush your teeth and your braces for a full two minutes after each meal
Floss daily
Continue getting a dental checkup and cleaning every six months
Quit unhealthy habits, like smoking, nail-biting, and chewing on ice.
Keep your consumption of sugary drinks and foods to a minimum.
The Benefits of Braces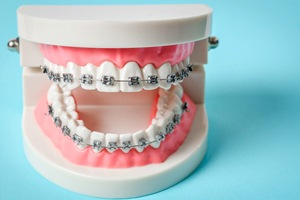 Braces offer a variety of benefits that other orthodontic treatments can't, depending on your smile. The most obvious benefit is that you won't have to suffer from having crooked and crowded teeth anymore, and can enjoy improved oral health. Some other advantages include:
Improved digestion because you'll have a corrected bite.
Boosted self-confidence.
Improved speech.
Correct jaw pain and disorders.
Straightening your teeth will make it easier to brush and floss too. Braces help eliminate nooks and crannies caused by crowding that make it easy for plaque and harmful oral bacteria to hideout. With aligned teeth, you'll be able to take better care of your mouth and reduce your risk of developing oral health problems like cavities and dental decay.
You don't have to wait any longer to get the straightened smile you've been dreaming of. Schedule a consultation today so your dentist in Dallas can help you find out what orthodontic treatment is the best fit for your unique mouth.
Understanding the Cost of Traditional Braces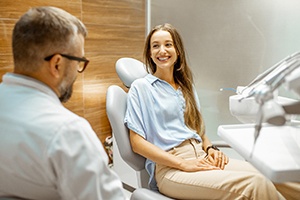 If you're interested in learning more about the cost of traditional braces in Dallas, you'll be happy to hear that you're in the right place! For a specific price estimate, we encourage you to schedule a consultation with our friendly and knowledgeable team. From there, we can examine your teeth, jaw, and smile before working on a custom treatment plan. On the other hand, if you simply want to learn more about some general factors that impact the price, then keep reading.
Factors That Affect the Cost of Traditional Braces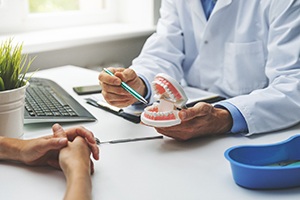 In short, traditional braces aren't a one-size-fits-all treatment. Before putting together your personalized treatment plan, our Dallas dentist will need to determine:
The severity of your misalignment
If additional accessories are needed, like rubber bands, headgear, and space maintainers
If you need to straighten one arch of teeth or both
The length of your treatment
Your age
The number of follow-up appointments needed
Another important factor that patients often neglect to consider is compliance. Although it can be inconvenient at times, abiding by your dietary restrictions and wearing your rubber bands are vital to your treatment. Not following your dentist's instructions will result in your teeth not moving as planned, adding more time and money to your treatment.
Professional Braces vs. "DIY" Braces: Which Costs More?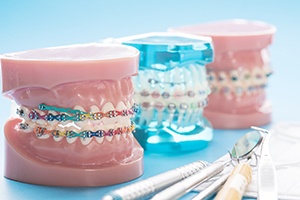 With a lower upfront cost, it can be tempting to opt for do-it-yourself braces instead of traditional ones. However, the DIY approach is problematic for a few reasons, including that there isn't a comprehensive exam beforehand, there's nowhere to turn if you need help, and many patients have experienced worsened misalignment. In fact, professional organizations, like the American Dental Association, have warned the public against the DIY approach for these very reasons. In short, if you want to achieve the healthy, happy, and gorgeous smile you deserve, then it's best to invest your time and money into a safe, effective, and reliable treatment, like traditional braces.
Does Dental Insurance Cover Braces?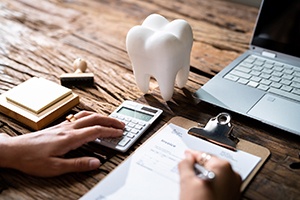 Do you have dental insurance? Then you'll naturally want to see if your available benefits can be used toward orthodontic treatment. To find out for sure if your dental plan covers braces, it's best to contact your provider. All plans vary drastically, for example, some may cover treatment for patients who are under 18 years old or may only cover a certain dollar amount.
Options for Making Braces Affordable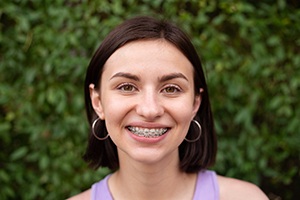 Don't have dental insurance? Good news: there are other ways to make your orthodontic treatment more affordable! Here's how we help make the cost more budget-friendly:
We welcome Medicaid & CHIP
We happily accept flexible financing with CareCredit
We extend periodic special offers, like braces starting at just $5,000
If you want to learn more about the cost of traditional braces in Dallas, then don't hesitate to schedule a consultation. From there, we can create your treatment plan, review your payment options in-depth, and answer any questions you have along the way.