June 22, 2023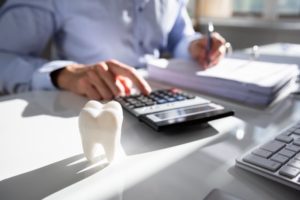 After living with missing teeth, getting dentures is an investment in your quality of life and physical and emotional health. For many, the benefits that they offer are priceless. However, that doesn't cancel out the fact that you could need to pay out-of-pocket for them depending on a variety of factors, like your health insurance coverage, what materials you choose to have them crafted from, and more. Read on to learn about four important cost factors of dentures that will go into determining the final price tag of your treatment.
1. Dental Materials
Each journey towards a restored smile starts with a consultation with your denture dentist. This will involve them going through all of the customizable options available to you, like what materials you want your dentures to be crafted from. Partial dentures typically have an underlying metal structure for added strength, while full denture bases can be crafted from a gum-colored acrylic or nylon, all featuring different price tags. In addition, you'll need to decide whether you want your replacement teeth to be made from porcelain or ceramic. Remember that the cheapest options won't always pay out in the long-run.
2. Use of Dental Implants
A big decision that you'll need to make is whether you want your dentures to be anchored to your mouth using dental implants. This will prevent your jawbone from deteriorating with time, keep your restoration firmly secured within your mouth 24/7, and restore up to 80% of your natural bite power. For many, despite being a higher up-front investment, implant dentures is well worth it.
3. Preliminary Treatments
In some situations, preliminary treatments like tooth extractions and the need for temporary dentures may be necessary. These will incur separate costs apart from your dentures, increasing the overall price tag of your journey towards a complete and functional smile.
4. Insurance Coverage
One of the most impactful cost factors is your dental insurance coverage. Many plans will cover at least a portion of the cost of dentures, which could make you responsible for paying out-of-pocket. If you have Medicaid, your benefits may cover the entire cost of traditional dentures, making you responsible for footing the bill if you'd like dental implants. If you do need to pay out-of-pocket, many dentists also work with third-party financers like CareCredit to help break the price up into more manageable monthly payments.
About the Practice
At Daily Smiles Dental, we're proud to accept virtually all PPO dental insurance plans and Medicaid as well as offer financing so our patients can get the dental care they need to live healthier, happier lives. We offer a wide array of tooth loss solutions, from leading-edge dental implants to tried-and-true traditional dentures, allowing patients missing many or all of their teeth to regain their whole smile. For questions or to learn how we can help you restore your mouth, visit our website or call 214-233-9460.
Comments Off

on 4 Cost Factors of Dentures
No Comments
No comments yet.
RSS feed for comments on this post.
Sorry, the comment form is closed at this time.