May 11, 2023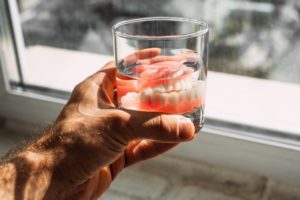 Now that you just got your dentures, the days of having immense difficulty eating some of your favorite foods and always hiding your smile are behind you. With your new replacement teeth, you'll be able to restore your oral function and health, giving you the confidence boost you need to move through life without the cloud of tooth loss looming over you. However, it is important to have realistic expectations of your new prosthetic, because after all, they aren't your natural teeth. Read on to learn what you can expect as you adjust to your dentures as well as some practices to speed up the process.
The First Day
The first 24 hours of your time with your dentures will be the most involved, as it's often the most uncomfortable time people experience with their new prosthetics. If you received any extractions or have your dentures attached to implants, you'll likely experience some soreness, which could be relieved with over-the-counter pain medication. If not, you'll still experience tenderness, but it will be more general instead of specifically at extraction or surgical sites. In any case, you'll want to eat soft foods and keep your restorations in your mouth for the first 24 hours.
2 Weeks
You'll notice that you'll develop sore spots on your gums and produce more saliva. These are typical signs of adjustment, so there's no need to worry. As your facial muscles become stronger and you're able to better control your restoration, you'll also notice that your dentures will work better for you. However, you'll want to avoid eating any excessively chewy foods and practice speaking with your dentures in your mouth. You can do this by reading out loud, reciting your ABCs in the shower, or practicing pronouncing certain words with someone you trust.
4 Weeks
By the time you hit the four-week mark of your adjustment period, you'll be used to having your dentures in your mouth and they'll serve you better when it comes to basic daily tasks like eating and speaking. If they're still causing you discomfort and oral sores, it's best to speak with your dentist to ensure they don't need to be adjusted to fit better within your mouth.
After Your First 30 Days
Just like with your natural teeth, your dentures will require routine maintenance and care, such as:
Brush your dentures twice a day to remove plaque and food debris.
Take your dentures out every night to give your gums a rest.
Soak your dentures in room temperature water or denture soaking solution whenever they're not in your mouth.
If you have partial dentures, store them in a hard protective case.
Cut tougher foods into small, bite-sized pieces so they're easier to chew.
Visit your dentist every six months for routine checkups and cleanings.
Contact your dentist if you notice oral sores developing in your mouth as a result of them not fitting properly.
Dentures can be a transformative lifestyle change, giving you back the joy of eating and speaking with ease, as well as boosting your confidence. With the proper care and a realistic expectation of the process, you can get the most out of your prosthetic for the next seven years or so before they need to be replaced.
About the Practice
At Daily Smiles Dental, our team is led by three highly experienced dentists, Drs. Vanina, Gustavo, and Aom Arrechea. Each of them is passionate about providing attentive, high-quality dentistry, whether that's during routine checkups and cleanings or more extensive treatments like dental implants. Together, they're able to provide families in Dallas with amazing, comprehensive dentistry in a friendly and welcoming environment. For questions about dentures or to schedule a cleaning, visit Daily Smiles Dental's website or call 214-233-9460.
Comments Off

on Making Adjustments: The First 30 Days with Dentures
No Comments
No comments yet.
RSS feed for comments on this post.
Sorry, the comment form is closed at this time.