April 19, 2023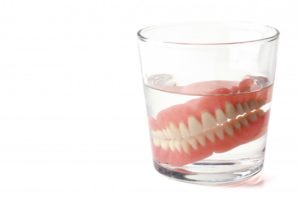 Finally renewing your smile with a set of custom-designed, functional full dentures can be exciting, and while you may be tempted to never want to remove them, that's not recommended. Your gums support your prosthetics throughout the day, and it's important for them to have time to rest and recover to avoid sores and pain from developing as a result of having them in 24/7. Read on to learn how wearing them for prolonged periods of time can harm your mouth and how to take proper care of them.
When Should You Take Out Your Dentures?
There are several times you should remove your dentures throughout the day to benefit your oral health and the appearance and function of your prosthetic. Some of these include:
Before you sleep, you should remove your dentures. As removable prosthetics, dentures weren't designed to be continuously worn and must be soaked in room temperature water to allow them to maintain their shape.
If you're experiencing pain related to your dentures, by leaving them in your mouth, it could exacerbate your discomfort.
Poorly fitting dentures that require ample amounts of adhesive to stay in atop your gumline should be relined or replaced.
If you're experiencing any sores or discomfort as a result of wearing your dentures outside of the initial adjustment period of about 30 to 60 days, it's a good idea to contact your dentist and ensure that they fit properly.
What Happens if You Keep Your Dentures in for Too Long?
Removing your dentures is crucial to maintaining good oral and overall health. If you don't, you may develop issues like:
Unhealthy soft tissue as a result of bacteria accumulation. When you don't take your dentures out of your mouth and allow your saliva to wash away bacteria trapped beneath the prosthetics as well as allow proper blood flow, it could result in infections, bad breath, and other signs of unhealthy tissue.
Denture stomatitis, which leads to inflammation and burning tissue. This is typically caused by an oral yeast infection that develops as a result of white blood cells producing more proteins.
Respiratory issues like pneumonia can develop when your mouth and throat are exposed to bacteria hidden below your dentures for prolonged periods of time.
Accelerated bone loss, also called bone resorption, can occur when you don't have adequate blood flow to your gums and jaw. This can lead to a change in facial shape, like sagging or hollow-looking cheeks.
Taking out your dentures periodically to clean and soak them and give your jawbone and gums a rest is essential for maintaining good oral health and preventing problems from developing as a result of bacteria accumulation. With the proper preventive measures, like taking them out whenever you go to sleep, you can keep your smile healthy and happy for years to come.
About the Practice
At Daily Smiles Dental Dallas, we have a highly skilled and experienced team of three dentists who are passionate about providing patients top-tier care in a comfortable environment. Their combined expertise allows them to offer a wide range of restorative dental treatments, including dentures, bridges, and implants, to rebuild smiles to be more functional and fuller. For questions or to learn more about dentures, visit our website or call 214-233-9460.
Comments Off

on Can I Wear My Dentures All Day & Night?
No Comments
No comments yet.
RSS feed for comments on this post.
Sorry, the comment form is closed at this time.