March 23, 2023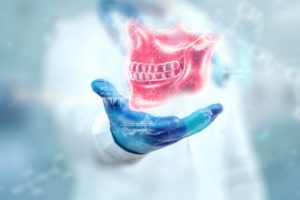 If you're missing teeth, you may be surprised to know that you're in the same boat as millions of others in the United States. In fact, according to the Centers for Disease Control and Prevention, an estimated 170 million people are missing at least one tooth, while 40 million are missing all of their teeth. Not only can this problem impact your day-to-day life by making tasks like eating and speaking harder, but when left unaddressed, they can also impact your appearance. Read on to learn how missing teeth can affect the look of your face and what you can do to stop other unwanted side-effects.
How Can Missing Teeth Affect Your Face Shape & Oral Function?
Many common effects of missing teeth are associated with aging, which is why not replacing gaps in the smile can impact your confidence so greatly. Some visible issues that can arise as a result, include:
Wrinkles & Fine Lines: Changes in the height of the jawbone can alter the face shape, causing vertical lines to appear.
Changes in Your Bite: When teeth go missing, it can cause a change in how your existing teeth come together. As a result, you may also experience bruxism (teeth grinding) and symptoms associated with TMJ disorder.
Chin Rotation: As your bite changes, you may also notice your chin shift forward or backwards, altering its appearance.
Hollow-Looking Cheeks: When roots of missing teeth are no longer stimulating the jawbone, it can cause it to deteriorate, leading to sunken-looking cheeks.
Thinning Lips: If you're missing front teeth, you may experience weakened muscles around the mouth that can make your lips appear thinner.
Can You Prevent Facial Changes by Replacing Missing Teeth?
Missing teeth can impact several areas of your life, which is why dentists are passionate about educating their patients about the importance of replacing gaps in your smile. While traditional dentures and bridges are an excellent solution for those who are looking for more cost-effective treatments, dental implants are today's gold standard.
Based on your unique needs and wishes, you may find that the all-encompassing restorative plan of dental implants to replace your roots as well as the crowns of your missing teeth offers more benefits both in your daily life and future health. Plus, with the proper maintenance, they can continue serving you for up to 35 years or more.
About the Practice
Drs. Aom and Gustavo Arrechea are passionate about helping their patients rebuild their smiles to be healthier and more functional than ever. With a focus on prevention, they aim to help patients make the best decisions for their health and are happy to walk them through each of their options for replacing their missing teeth. Whether providing traditional bridges and dentures or cutting-edge dental implants, they're equipped with the skills and training to help their patients achieve their smile goals. For questions or to schedule a consultation, visit Daily Smiles Dental Dallas' website or call 214-233-9460.
Comments Off

on Can Missing Teeth Change Face Shape?
No Comments
No comments yet.
RSS feed for comments on this post.
Sorry, the comment form is closed at this time.