February 24, 2023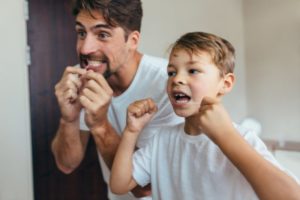 The American Dental Association along with dentists everywhere recommend coming in for a professional checkup and cleaning twice a year, or every six months. These appointments play a crucial role in maintaining healthy teeth and gums and helping avoid serious oral problems, like tooth infections and severe cavities. It's good to come prepared for your appointment to make sure that your dental cleaning doesn't take longer than necessary and avoid any insurance miscommunications that could make you wait a little longer in the lobby. Read on for four ways you can prepare for your upcoming routine checkup and cleaning.
1. Brush & Floss Before Your Appointment
If you're like most people and don't floss every day, it's important that you diligently do so once a day leading up to your appointment. Not only will this help remove plaque and debris trapped between your teeth, making your cleaning shorter, but it will also minimize any post-cleaning soreness and bleeding.
The same rule applies to brushing before your appointment—be sure to thoroughly brush your teeth for at least two minutes beforehand to make sure you don't have to sit in the treatment chair for any longer than necessary.
2. Communicate Any Changes in Insurance
Before your routine visit, make sure to communicate any insurance changes since the last time you saw your dentist. By doing this before your appointment, you can avoid needing to fill out paperwork in the waiting area and prolonging your visit.
3. Determine Whether You'll Have Out-of-Pocket Expenses
By communicating insurance changes to your dental office, you'll be able to find out whether you'll need to pay a deductible or out-of-pocket cost for any services you're receiving. For example, in many cases, if you want fluoride after your cleaning, this may incur an out-of-pocket fee. Be sure to ask your dental office whether you can expect to pay any amount out-of-pocket while you've got them on the phone.
4. Let Your Dentist Know if You Experience Dental Anxiety or Fear
If you experience dental phobia or anxiety caused by the sights, smells, and sounds of the dental office, be sure to let your team know beforehand so they can prepare to make your visit as comfortable as possible. In some cases, if you believe it's necessary, they may offer oral conscious or nitrous oxide sedation to ensure you feel comfortable and at-ease in the treatment chair.
About the Practice
Drs. Gustavo Arrechea and Aom Arrechea are passionate about helping their patients maintain healthy and beautiful smiles for a lifetime, which is why they place a special emphasis on routine, thorough preventive dentistry. They strive to help each of their patients feel as comfortable as possible during their visits, so they offer fast-acting in-office nitrous oxide as well as oral conscious sedation. For questions or to schedule a checkup and cleaning, visit Daily Smiles Dental's website or call 214-233-9460.
Comments Off

on 4 Ways to Prepare for Your Next Dental Checkup & Cleaning
No Comments
No comments yet.
RSS feed for comments on this post.
Sorry, the comment form is closed at this time.