January 19, 2023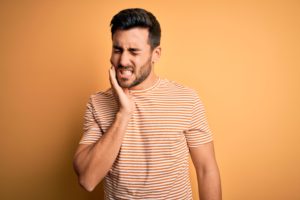 Putting off getting a root canal may seem like a harmless or even good decision, but the consequences of leaving an infected tooth untreated are many. Although root canal therapy has a reputation for being a scary dental procedure, the truth is that it can not only save your tooth and cure your pain, but also prevent other more serious issues from arising down the road. Read on to learn what could happen if you put off receiving necessary root canal therapy.
What Happens if You Avoid Getting a Root Canal?
Many people put off visiting their emergency dentist out of fear of hearing that they need a root canal to get rid of their pain and improve their oral health. Unfortunately, avoiding the issue at-hand doesn't make it go away. In fact, in many situations, leaving a toothache and infection alone will only make your oral health decline even more.
When left unchecked, a tooth infection requiring root canal therapy can lead to:
The infection spreading to surrounding teeth, compromising their health as well.
Death of the tooth root, causing it to need to be removed and replaced.
Prolonged tooth pain that makes daily life more difficult.
Declining overall oral health, leading to the need for other dental treatments.
Why Are Root Canals Necessary?
Just like with an infection anywhere else in the body, a tooth infection can spread and even get into the blood stream, potentially compromising your overall health. When a dentist recommends a root canal, they're likely able to not only stop this from happening, but also preserve your natural tooth's structure and health.
If the root canal is postponed, it could cause the tooth to die, requiring you to need more invasive treatments like a tooth extraction and dental bridge or implant. So, in short, root canals are necessary to keep your oral and overall health from getting worse.
Are Root Canals Painful?
Many people avoid root canal therapy because they're scared of the rumors they've heard about the treatment, like that it's painful. Fortunately, these rumors are false, and the only thing that's painful during the process is the actual toothache caused by the infection.
After a root canal, this discomfort will go away, and you'll be able to enjoy your natural, comfortable smile like you did before the issue developed. In some cases, patients are able to request sedation or their dentist will administer a local anesthetic to numb the area and ensure you don't feel a thing.
While the thought of needing emergency dental care can be scary, know that your dentist is recommending treatment for your wellbeing and prolonged health. The faster you act, the less damage that will occur to your smile.
About the Author
Dr. Aom Arrechea is a skilled and gentle dentist with years of experience under her belt. She has completed advanced training, allowing her to offer Level 2 Moderate Sedation, and is adept at treating patients who are in pain. Her calm and friendly manner help patients feel immediately at-ease, and she even offers same-day emergency appointments. For questions or to schedule an appointment, visit Daily Smiles Dallas' website or call 214-233-9460.
Comments Off

on What Happens if You Put Off Getting a Root Canal?
No Comments
No comments yet.
RSS feed for comments on this post.
Sorry, the comment form is closed at this time.