January 17, 2023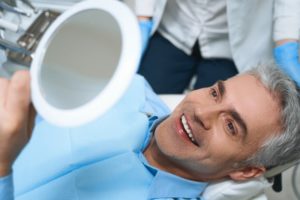 Veneers can truly transform your smile, taking gapped, broken, and misaligned teeth and making them appear full, symmetrical, bright, and even. Even with the proper care, these restorations can still accidentally become detached from your tooth, leaving your prepared natural tooth exposed and forcing you to go about your day with a less-than-beautiful smile. In this situation, it's important to be prepared. Read on to learn how you should handle a veneer falling off a tooth and what you can do to prevent it from happening in the future.  
Steps to Take After a Veneer Falls Off
Call your cosmetic dentist. Schedule an urgent appointment with your cosmetic dentist as soon as possible so they can protect your exposed tooth.
Collect your detached veneer. Pick up any broken or detached veneers and store them in a clean container to bring to your appointment.
Protect your exposed tooth. If you can't get in to see your dentist right away, you can place dental wax over your tooth as a temporary solution to minimize sensitivity and protect it.
Receive treatment. Once you arrive at your dentist's office, they'll be able to place a temporary veneer as they send out an impression to craft a new permanent one with. If they're able to salvage your original veneer, they may be able to restore your smile during your appointment.
What Causes Dental Veneers to Detach from Teeth?
Veneers can fall off for a variety of reasons, including:
The veneer is old—most last between seven and 15 years with proper care, but as time goes on, different factors can affect the bonding that keeps it attached to your tooth, like drinking alcoholic beverages.
Tooth decay has developed beneath the veneer, making it no longer healthy enough to support the restoration and causing it to fall off.
Poor oral hygiene and habits, like chewing on ice, that can lead to the veneer becoming damaged.
How Can You Keep Veneers from Becoming Damaged?
While in some cases you can't prevent veneers from becoming detached, like if they're old and need to be replaced, other situations can be avoided. Here are some ways you can increase the lifespan of your cosmetic results:
Maintain a good oral hygiene routine by brushing twice a day, flossing daily, and visiting your dentist every six months for a checkup and cleaning.
Protect your teeth from grinding by wearing a nightguard.
If you play sports, be sure to invest in a customized athletic guard.
Avoid bad oral habits like nail-biting, eating ice, chewing on pencils, smoking, and drinking excessive amounts of alcohol.
By implementing these small daily care tips into your life, you can truly get the most out of your investment in dental veneers and enjoy your bright, full, and aligned smile for as long as possible. Although, it's still a good idea to remain prepared for the worst-case scenario and always keep your cosmetic dentist's phone number on-hand in case one of your veneers falls off so you can act quickly.
About the Author
Dr. Gustavo Arrechea is a highly skilled cosmetic dentist who regularly completes continuing education courses to provide his patients with the highest quality of care possible. He is certified in Level 2 Sedation and offers a wide range of treatments to help his patients beautify and improve the appearance of their smiles, including veneers. For questions or to schedule an appointment, visit Daily Smiles Dallas' website or call 214-233-9460.
Comments Off

on What Should You Do if a Veneer Falls Off?
No Comments
No comments yet.
RSS feed for comments on this post.
Sorry, the comment form is closed at this time.