December 21, 2022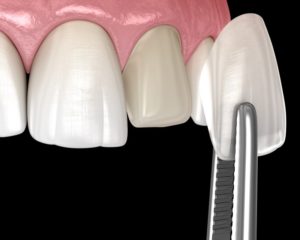 You've recently decided to invest in veneers and are excited about the future, but one thing you may not be so sure about is how to take care of your newly improved pearly whites. Veneers are durable and crafted from stain-resistant porcelain, but that doesn't mean they're indestructible. Although these sheaths may be a bit more resistant to wear-and-tear than your real teeth, it's important to keep in mind that your real pearly whites are still hidden beneath them. Read on to learn whether veneers get cavities and what you can do to get the most out of your new-and-improved smile.
Can Veneers Get Cavities?
While veneers themselves can't get cavities since they're made of porcelain, your underlying natural teeth that they're attached to still can. It's crucial to keep your natural teeth healthy because they're anchoring the veneers in place, not to mention, escalating oral health problems can lead to dire consequences for your smile, like having to replace missing teeth. If one of the teeth supporting a veneer does get a cavity, the restoration will need to be removed so a filling can be placed, meaning you'll need to have a new veneer secured to the affected tooth.
How Do Cavities Develop Beneath Veneers?
Even though your veneers are shielding the front, visible surface of your tooth, that doesn't mean that your natural teeth are protected. There are several reasons in which decay could develop beneath your restoration, including:
If a veneer has been on for too many years, causing bacteria and debris to build-up beneath the restoration or on the back side of the tooth that isn't covered by the veneer.
If a veneer isn't properly installed on the tooth.
If a veneer is placed over a tooth that has pre-existing decay or weakened enamel instead of the issue being treated.
If you don't maintain good oral hygiene, leading to a build-up of bacteria, plaque, and tartar in the mouth.
Caring for Your Veneers
When you opt for veneers, know that they can last for 25 or more years with the right care, so they're a great investment! With that being said, you'll still need to put effort into caring for them to extend their lifespan and make them last. Here are some best practices for preserving your veneers and maintaining good oral health:
Entrust your treatment with a skilled professional that knows what they're doing.
Visit your dentist once every six months for a checkup and cleaning.
Eat a balanced diet, being sure to avoid foods that could damage your restorations.
Maintain a good at-home oral hygiene routine of brushing twice each day and flossing daily.
By putting these few steps into action, you can make getting dental veneers to rejuvenate your grin a much better investment in your time and money. Not only will your new smile thank you, but your wallet will, too!
About the Author
Dr. Aom Arrechea has been practicing dentistry for well over a decade and is dedicated to staying up to date with the latest advancements in her field. She regularly pursues continuing education and has completed specialized training in a wide array of specialties, including Level 2 Sedation. She loves helping patients who are affected by dental imperfections, like chips and cracks, achieve their dream smiles through personalized cosmetic treatments like veneers. For questions or to schedule an appointment, visit Daily Smiles Dental Dallas' website or call 214-233-9460.
Comments Off

on Can Veneers Get Cavities?
No Comments
No comments yet.
RSS feed for comments on this post.
Sorry, the comment form is closed at this time.