December 15, 2022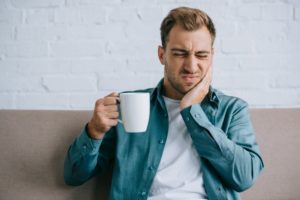 One of the most common misconceptions about root canals is that they're painful. This one rumor often acts as a barrier that keeps people from seeking the emergency dentistry they need to not only preserve their smile, but also keep the problem at-hand from progressing and causing even more damage. If you're experiencing a severe toothache or any other sign of an infection, you'll be surprised to learn the truth is about this treatment—which is that it's actually not painful!
Signs You May Need a Root Canal
Root canals are often used to treat tooth infections, which usually arise as a result of untreated decay. When bacteria make their way to the center of a tooth and affect the sensitive pulp within, it can lead to a severe toothache. Some other signs that you may require root canal therapy include:
Pain while chewing or biting
A pimple-like bump on the gums
Swollen or tender gums
Darkening of the gums
Lingering sensitivity to hot or cold items
A chipped or cracked tooth
In any of these cases, it's crucial to visit an emergency dentist as soon as possible so they can diagnose the issue and come up with a treatment plan to get you out of pain and restore your oral health.
Are Root Canals Painful?
Even though most people will tell you that root canals are painful, even if they've never had one themselves, know that this is just a rumor. In many cases, the pain that they're referring to isn't a result of the treatment, but the infection itself. Before your dentist even treats your tooth, they'll administer a local anesthesia to numb the area and ensure you can't feel a thing throughout the process. Then, once it's over, your pain caused by the infection will be cured—although, you may experience some slight soreness and sensitivity as a result of the procedure.
Problems That Could Emerge if You Don't Treat an Infection
Even though it may be tempting to avoid bad news from your emergency dentist, not going in for an examination could only lead to even worse issues emerging. An untreated infection can ultimately cause the roots of your tooth to die, making the area go numb and requiring the tooth to be extracted to keep the issue from spreading to surrounding teeth. Not only could this mean more money from your savings, but it also means you won't be able to keep your natural tooth. That's why it's always better to be safe than sorry and visit your emergency dentist if you ever experience tooth pain.
Even though root canal therapy can be daunting, when you look after your smile and seek out urgent care, you can rest-assured that you're doing everything you can to keep your complete, natural grin intact.
About the Author
Dr. Gustavo Arrechea has been practicing dentistry for countless years and is always staying on top of the latest advancements in his field. He is a proud, active member of several professional organizations and is certified in Level 2 Sedation. He offers same-day emergency appointments for patients who are in pain because he doesn't want them to have to endure it for any longer than necessary. For questions or to schedule an urgent examination, visit Daily Smiles Dental Dallas' website or call 214-233-9460.
Comments Off

on The Truth About Root Canals: Are They Painful?
No Comments
No comments yet.
RSS feed for comments on this post.
Sorry, the comment form is closed at this time.