November 16, 2022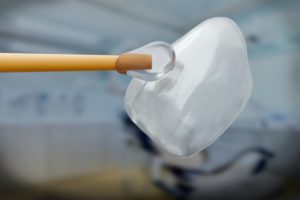 Dental veneers can take a smile riddled with discoloration, damage, and even slight misalignment and transform it into one that's beautiful, symmetrical, and evokes confidence. If you've invested in this cosmetic procedure, it makes sense that you'd want to get the most out of your money by extending the lifespan of your veneers. Read on for four ways you can get the most out of your new-and-improved smile.
Maintain a Good At-Home Oral Hygiene Routine
Just like with your natural teeth, in order to keep your veneers looking like new and healthy, you'll need to maintain a good at-home oral hygiene routine by brushing twice each day with a non-abrasive toothpaste, flossing at least once every day, and rinsing your mouth daily with a non-alcohol mouthwash. This will help keep the natural teeth supporting your veneers healthy by preventing plaque and tartar accumulation that could lead to cavities or gum disease.
Avoid Stain-Causing & Harmful Foods
Your veneers will likely be crafted from porcelain, which is a stain-resistant material that's non-porous. This means that it won't become discolored as quickly as your natural enamel, which can turn dark from drinking and eating too many darkly colored foods and beverages. Even though this will keep your veneers looking brighter for longer, it's still a good idea to only consume the items that can stain your natural teeth, like coffee, red wine, and tomato-based sauces, in moderation. Additionally, try to steer clear of foods that are excessively chewy or hard that can break or dislodge your veneers.
Break Bad Oral Habits
If you have bad habits like smoking, teeth grinding, or consuming excessive amounts of alcohol, you'll want to start finding healthier coping mechanisms if possible, or in the case of teeth grinding, protect your teeth with a customized nightguard. The reason being is because alcohol can actually cause the bonding agent that secures your veneers to your teeth to disintegrate, and smoking can lead to oral health problems like cancer and gum disease. By breaking these habits, you'll be able to present your veneers with fewer obstacles.
See Your Dentist for Preventive Visits
The key to long-lasting veneers is healthy teeth, which you can ensure by visiting your dentist twice a year for checkups and cleanings! During these preventive appointments, your dentist will examine your veneers to make sure none of them are damaged and all of them are properly adhered to your teeth. This can keep a veneer from falling off when you least expect it!
By following these four crucial veneer maintenance steps, you can get the most out of your investment in your transformed smile. In many cases, patients are able to enjoy their restorations for up to 25 years before needing to have them replaced!
About the Author
Dr. Aom Arrechea is a friendly, kind dentist with years of experience under her belt. She enjoys being able to help her patients make their dream smiles a reality with custom-tailored cosmetic treatments, like veneers, and has completed extensive training in a variety of specialty areas, including sedation. For questions or to schedule a consultation to learn more about veneers, visit Daily Smiles Dental Dallas' website or call 214-233-9460.
Comments Off

on 4 Ways to Get the Most Out of Your Veneers
No Comments
No comments yet.
RSS feed for comments on this post.
Sorry, the comment form is closed at this time.