September 19, 2022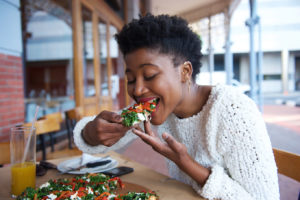 In October of 2010, a New York Times article highlighted that about 600,000 people had dental veneers in 2006, which was an estimated 15 percent increase since 2004. As veneers become progressively popular, more people are looking into getting them and wondering what their lives would look like after investing in this cosmetic dental procedure. Sure, you'll get a dazzling new smile out of it, but are there some drawbacks, like having to change your diet? Read on to learn more about how dental veneers can impact your daily life, like what you eat.  
Permanent vs. Temporary Veneers
In order to know how veneers could impact your lifestyle and determine whether they're worth getting, it's important to understand the process. As your cosmetic dentist in Dallas is having your custom, permanent veneers crafted, you'll need to wear a set of temporary ones. These help you get used to what your smile will look like once the permanent ones are placed, and they're also functional.
Foods to Avoid with Temporary Veneers
Because temporary veneers aren't placed on your teeth to withstand time and use, it's important to be gentle with them until your sturdier, custom-crafted veneers are in place. To keep them from becoming displaced in the meantime, be mindful to avoid foods that are hard (like raw fruits, vegetables, popcorn, and ice), toasted or crusty breads, tough meats, and sticky foods.
Foods & Beverages to Avoid with Permanent Veneers
Your permanent veneers will be made to withstand the test of time and use, which means you won't have to avoid very many foods with them. To keep them looking dazzling, minimize drinking dark liquids (like red wine and coffee), eating extremely hard foods, and consuming alcoholic beverages that can affect the bonding material that attaches the veneers to your teeth. This isn't to say that you can't consume any of these items, it's just important to enjoy them in moderation to preserve your new restorations.
Ensuring Your Veneers Last
The best way to make investing in veneers worth your while is to take care of them by maintaining a good oral hygiene routine of brushing twice each day and flossing daily, as well as being mindful of not eating excessively hard foods or regularly consuming items that could cause them to discolor over time. With this in mind, most people are able to enjoy their results for as long as two decades!
About the Author
Dr. Aom Arrechea completed her doctorate at the University of Southern California. She's committed to staying up-to-date with the latest advancements in her field by regularly completing advanced training in specialty areas of interest, like sedation dentistry and special patient care. She is a member of the American Dental Association and Texas Dental Association, and provides a variety of cosmetic treatments, including porcelain veneers and teeth whitening. To schedule a cosmetic dental consultation, visit our website or call 214-233-9460.
Comments Off

on Will You Need to Change Your Diet After Getting Veneers?
No Comments
No comments yet.
RSS feed for comments on this post.
Sorry, the comment form is closed at this time.