August 19, 2022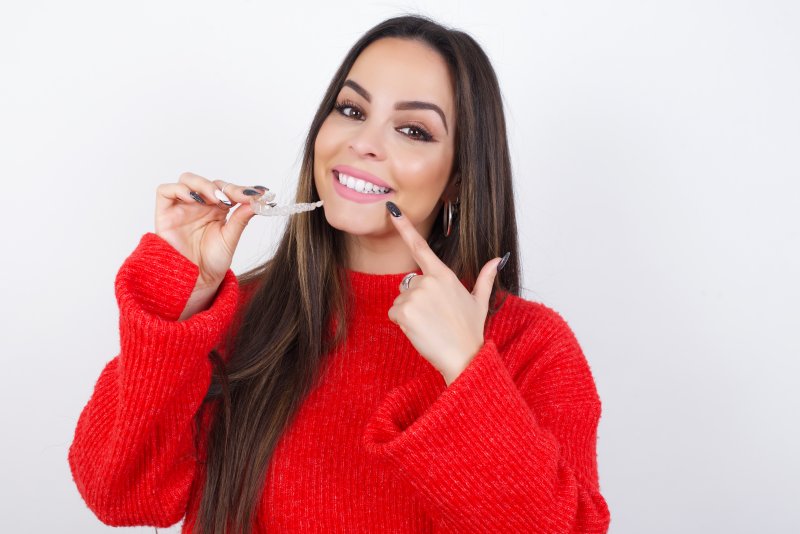 When you first get Invisalign aligners, you may think they'll keep your smile healthy. After all, aren't they practically a shield for your teeth? The trays will surely protect each tooth as the straightening process continues. However, that view is a false assumption. In truth, your teeth can decay and get cavities during Invisalign treatment. You'll need treatment from a dentist if that happens. Read on to learn why a cavity can occur with aligners, what to do if you get one, and cavity prevention tips for the future.
"I Really *Could* Get a Cavity During Treatment?"
Yes, you could. While clear aligners certainly look protective, they won't stop teeth from developing tiny holes.
Keep in mind that you need to remove Invisalign trays for meals. They don't guard your pearly whites against food debris. In fact, the only thing you can consume while wearing them is water.
Furthermore, poor oral hygiene could lead your aligners to *worsen* your dental health. If you don't care for your teeth well, the trays will trap plaque and bacteria against them. In that case, you'd increase your risk of cavities, tooth decay, and gum disease.
"What Should I Do if a Cavity Occurs?"
If you get a cavity, don't panic; it won't help your situation. Instead, schedule an appointment with your dental practice as soon as possible.
Once you've arrived for a visit, your dentist can give you effective treatment. In particular, they'll likely place a filling or some other dental restoration to address the issue.
You may experience soreness when wearing your trays after the filling is placed. Depending on whether you got a larger restoration like an inlay or crown, the aligners' fit may feel off too. These feelings are normal and will pass with time.
Tips for Preventing Future Cavities
Thankfully, it's possible to prevent cavities during your treatment. Just follow tips like those below:
Remember Proper Oral Care: Always brush your teeth twice daily, floss once daily, and rinse as needed with mouthwash.
Eat a Mouth-Healthy Diet: Instead of sugary sweets that erode enamel, have items with mouth-healthy vitamins and minerals. Drink plenty of water as well!
Treat Aligners Well During Meals: As said above, you should remove your trays before eating anything. Plus, after you finish, rinse them before putting them back in your mouth.
See Your Dentist Regularly: Make sure to visit your dental practice every six months for checkups and cleanings.
As you can see, plastic trays won't keep cavities at bay. Practice the tips above to keep your smile healthy during its straightening journey!
About the Practice
Daily Smiles Dental is based in Dallas, TX. Thanks to their excellent dentists, they offer high-quality care for patients of all ages! Such services include preventive, cosmetic, and restorative dentistry, as well as emergency treatments. They're also a certified provider of Invisalign orthodontics. Whatever your smile needs, you can trust this dental team to give you great results. For more information or to book an appointment, you can reach them at their website or by phone at (214)-233-9460.
Comments Off

on Can You Get Cavities During Invisalign Treatment?
No Comments
No comments yet.
RSS feed for comments on this post.
Sorry, the comment form is closed at this time.